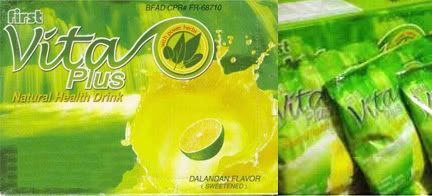 Several months ago, we were gifted by Tita Irish with a box of Vita Plus Natural Health Drink. It is like a powdered dalandan flavored juice drink but is fortified with five potent herbs. When we feel sluggish or about to get sick, we take this and we usually feel a surge of energy come back.
Dindin doesn't usually drink juices, but since I know of the good health effects of Vita Plus especially to her immune system, I use it to flavor her milk and she likes it. I put about half a teaspoon of the powder in her milk bottle and just add in the normal amount of milk powder. She would call it "Yummy dede." After all, I believe that giving her a little amount would already go a long way for her health.
But you know what I noticed? Almost every time that she puts down the bottle after finishing the entire mixture, she would then ask to go to the potty. And it is not to pee but to poo. Now, this is not like Dindin because she gets really constipated despite drinking a lot of water. It had always been our problem and we even got to the point that we give her laxative or suppository every time she could not move. It got really bad that our pediatrician-friend already prescribed her with Movilax. Now, her bowel movement is regular.
So I am very happy to have discovered this nice effect of Vitaplus on her.
We do not let her finish the entire pack at one time because the drink is known to boost energy. And Dindin is already very energetic. But I would really recommend this drink for those kids who are having a hard time because of their infant formula. It has really worked for Dindin.