Before my second baby, Shane, was born, a friend of mine asked me what detergent I will use on my baby's clothes. I did not have an answer because honestly, I did not have a special detergent for the clothes of my first child Dindin. Then she mentioned about the Tough Love line of cleaning products by Human Heart Nature.
Because it was brought to my attention, I asked my husband to buy not just the detergent. He got a bottle of the Tough Love Dishwashing Liquid and a box of Tough Love Natural Powder Detergent. I felt these would be good products to use on my baby's stuff because these are organic and do not contain harmful chemicals. Here is my review of the products:
Tough Love Dishwashing Liquid
Pricing: 250ml – Php99.75; 500ml – Php169.75
This product is more expensive than regular dishwashing liquids. But that is fine, as it is not so steeply priced and since it is only used for my baby's stuff, I did not think it too much for our budget. The company claims that it is tough on grease yet kind to the skin and of course Mother Earth.
And they are true to their claim. I think it is as sudsy as chemical liquids and it can effectively remove the greasiness of my breast milk on the bottles. The bottles are squeaky clean and we don't need a second soaping just to remove the grease. I am just not sure if it is used on dishes and cookwares as I never tried it.
I so love its grapefruit-orange scent, which actually comes to me as kalamansi. But that is fine, because it smells good and clean. And as the company claims, "It's non-toxic, biodegradable, 99.97% natural and 100% free from harmful chemicals! No phosphates. No dyes. No petroleum. No chlorine. No synthetic fragrance." I believe in that and I feel safe that baby's bottles do not have have harmful chemical residue. I would highly recommend this product, if only for the washing of baby stuff. I cannot speak for the kitchen wares because I have not tried it.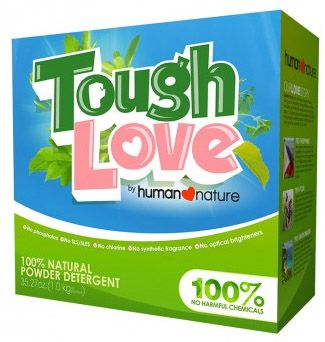 Tough Love Natural Powder Detergent
Pricing: 1kg – Php199.75
We started using this product on baby's clothes when she was already 3 weeks old. Before that, she did not have rashes. She is one of those babies who do not have much milia and dead skin cells. But when we started using this detergent, rashes started to appear on her face and eventually on areas where her skin and her clothing are constantly rubbed, such as neck, nape, and edges of her panty. At first we did not connect it to the detergent because of occurrence of the rashes on her face, but eventually we realized that this happened because she sleeps on her tummy and rubs her face on the her sheets.
I asked the helper about the detergent and she said that even after rinsing five times, the water still looks translucent. It seems that no matter how she rinses the clothes, there is still soap left. My other theory is that, it seems that the detergent is not tough enough to clean clothes because when I smell the freshly laundered clothing, they still smell of stale milk.
We have finished 3/4 of the pack until we switched to another hypoallergenic detergent brand. In less than a week, the rashes started to diminish WITHOUT having to apply a rash cream or giving my baby any anti-allergy medication. I set aside the newly laundered ones until we were finally able to wash everything using the new detergent. Now, my baby is rash-free.
I guess this product is nice and good for the environment but it is just not for everybody. At least you know that there this can happen and so if your baby has sensitive skin like mine and you notice rashes, it may be caused by this detergent (if you are using it, of course).