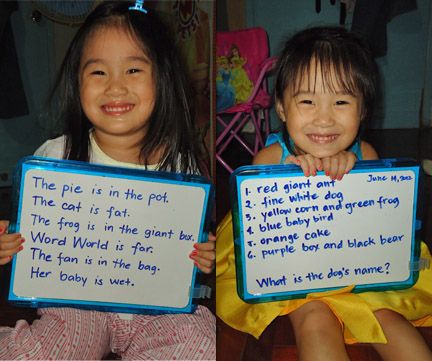 Please refer to my previous article about Teaching Dindin to Read.
After we have collected many words, I started making sentences based on the words on the door. These are just simple words like, "The pig is in the box." We started with a few words until we made something more complicated like, "The fat white sheep is in the truck."
First, I just pointed them out from the words posted on our door. Eventually, I wrote them down on a whiteboard and we continued reading.
Just like in the previous article, Dindin gets a reward—she gets drawings on her hands. We also praise her for whatever she does so that she will be encouraged to continue. I would report her achievements to her Papa when he comes home and he, too, would clap his hands and appreciate her. So she gets encouraged.
Hope this helps. And next stop for us would be to harness her writing. It is still quite crude.
Good job Dindin!