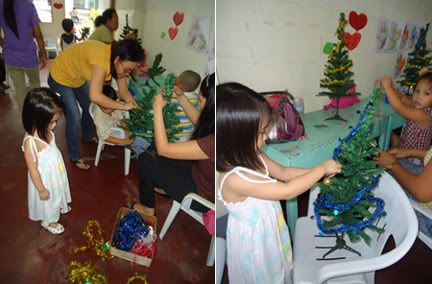 As I have posted earlier, we put up two small Christmas trees in our living room and Dindin did most of the work. We just bought the second to compensate for the small size of the first one that we had.
But when we attended Sunday School last weekend, the kids were each given a small tree to decorate along with the trimmings. It was supposed to be their gift for their parents. hahaha So now we have three Christmas trees.
My husband said that the trees procreated. LOL
Dindin just loves the activity. Next Sunday, it will be an outreach activity for them at one of the daughter churches. We will surely let Dindin go because that is one way of exposing her to what sharing is all about.