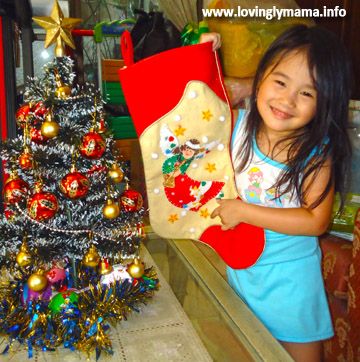 Yesterday, I already thought of putting up our Christmas tree. Though I am really busy, I just know that I had to make time for it. So after last year's tree and decors were cleaned, Dindin and I started working on our little tree.
It is only about two feet tall but it took maybe 30 minutes for Dindin to fill up with the balls and trimmings. She was just so happy as she did it. Look at the photo below, she is all smiles while working and singing, "Deck the halls with boughs of holly…fa-la la la la la la la la. hahaha She was just so happy!
I already started looking for a bigger and fluffier Christmas tree but they were all way beyond our budget. So we are sticking to our old tree. I guess we can do that in the future. For now, Dindin is content with our little green. 😀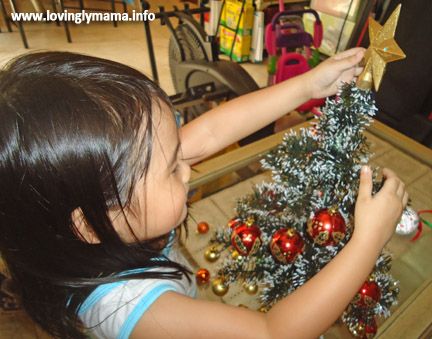 If Mama is not so busy later than maybe we can already start wrapping the gifts for our family and friends. We have bought most of the gifts for our godchildren and Dindin's friends. We may have missed a two or three, but then that would be it. I am still thinking of buying some stackable chairs for less that we could also give as gifts.
I was told that gift wrapping service at the mall is swamped. You have to leave your gifts and come back for them after several days. So we will just have to do our own wrapping. Besides, that would be a fun activity for Dindin and I.
Well, Merry Christmas everyone! 😀