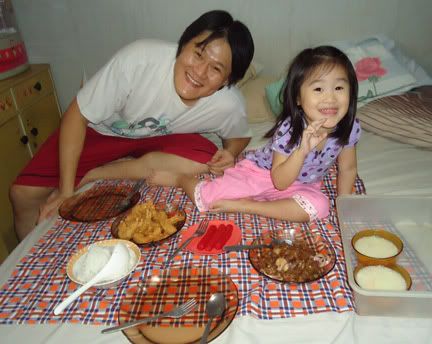 When you need to entertain your family, you need to be spontaneous and creative. Well, of course, planning is good, but sometimes, there are spur of the moment situations that we could grab and turn into a wonderful activity.
Today, we found out that we, my husband are the only ones left in the house to have lunch. So what did we do? We held an indoor picnic! I took out a small plaid blanket and declared it as picnic mat. Then we brought all our food inside the room. The maid went nuts, of course, but Dindin was ecstatic.
Well, that's a funny face pic above before our really heavy lunch!
If you decide to do this, just be careful that your food doesn't spill on the bed or on the floor. If it does, clean up afterwards so that ants and other insects won't visit you.