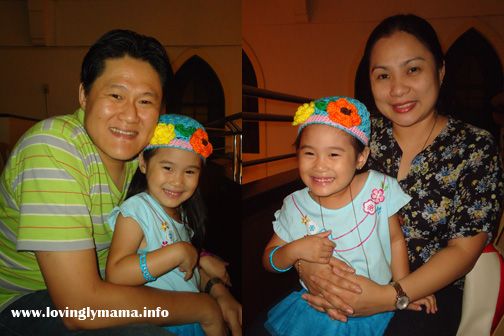 December 24 is my father's birthday and we usually celebrate with them during lunchtime. But since they are in Manila for a vacation, we stayed home and I just spent time with Dindin.
When afternoon came, I dressed her up in a new blue outfit and we went to SM–just to go around while waiting for the Christmas presentation in church. We watched the show from 8pm to about 9:30pm, greeted our friends, and then went home. It was time to open Dindin's present from Papa and Mama.
No, we did not prepare Noche Buena. There was no fancy menu. Instead, my parents-in-law sent us food to bring home from church. On the way home, we saw that KFC was opened and we bought a snack box for Dindin and Krushers for me because I was already very thirsty. That's fine with us. No preparations, no hassle, but we still had fun–even if it was just the three of us.
When we got home, we had our Christmas picture taken. It was kinda funny because there were only the three of us in the house. We do have a tripod but since the timer on my camera isn't working anymore, we don't have anybody to take our picture. So Papa had to hold the camera while he took our photos. 😀
Then it was time for Dindin to open her gift from us. We gave her Disney Princess Dolls with a matching Princess toy box and naturally, she loved them. We bought the dolls back in June and in July, when they were on 50% off. The toy box just followed this month, because we saw how fitting it was. And it will double as a stool for Dindin, too. It took a great deal of self-control on my part not to give the dolls to Dindin before Christmas. Instead, we told her to pray to God for what she wanted and maybe, just maybe, God will answer her. So she was very happy to receive them.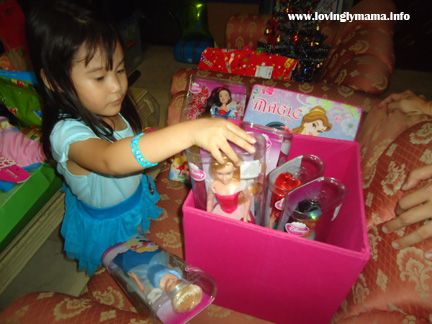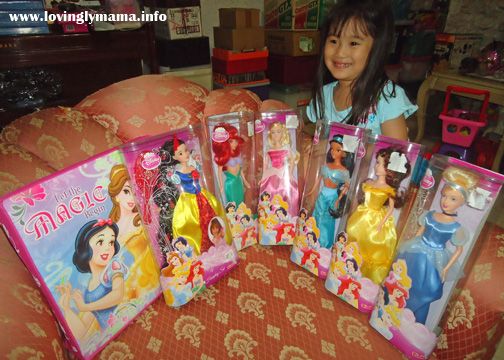 After we were settled, we sat down and read the Christmas story from the iPad. It is a great way to teach Dindin and also remind us what Christmas is all about. Then we prayed–each one of us prayed to God–saying our praise and thanksgiving.
We waited for the rest of the family to come home before retiring. The opening of the rest of the gifts are reserved for Christmas day. 😀 Indeed, it was a simple and quiet Christmas celebration. No frills, no fancy preparations–something that I really like.
Merry Christmas everyone! 😀