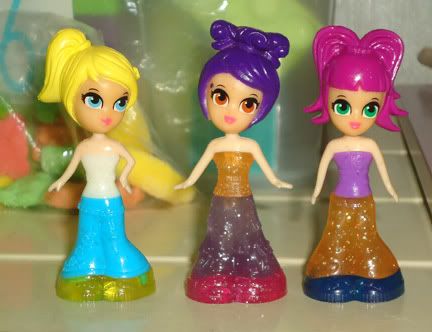 Dindin's ninoy Philip was here last week for a visit and he brought home this nice gift for her–Mixi Chix! This is actually the first time I met these girls so here is a primer about them. teehee
These are cute rubber or plastic dolls that when sprayed with water, they stick together. The dolls actually came as separate parts–the body along with the blouse is one part, the pants are another part, while the shoes are also another. The head is a moving part so they are still interchangeable.
So if you prefer, you can play with them as different pieces and just mix and match them together. But after a while, we got tired and so we sprayed water on them to make them stick and become three distinct dolls. Here are their names–Lemon (yellow hair), Blueberry (blue hair), and Raspberry (dark pink hair).
They came with a doll house and furniture as well as a glitter shower. You can put the girls one by one in the glitter shower, spray them with water, and then "shower" them with glitters! That would make them extra sparkly. The furniture came with beads of different colors. You have the option of beautifying the fixtures in the house with these beads. All we have to do is to spray water on the surfaces and the beads will stick on them.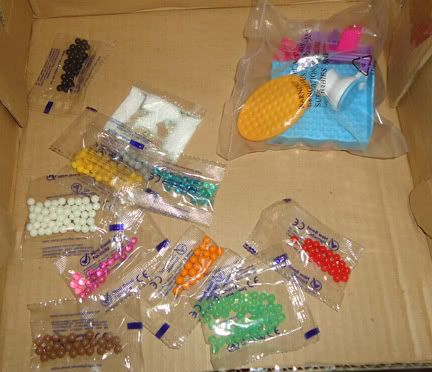 The set comes with an atomizer that we can fill up with water. But once the items are stuck, they are permanent, or at least that's what we think because separating them is not in the instruction.
Anyway, we are just playing with the dolls and the dollhouse now but I decided to keep the beads and the glitter until Dindin is old enough to assemble them herself. For now, we are enjoying the dolls and the fixtures. Dindin especially likes the potty, where she also lets her Tinkerbell doll do her peepee and poopoo. haha
I have not seen Mixi Chix here yet. Ninoy Philip lives in Singapore and has brought it from there. Thank you, Ninoy Philip!