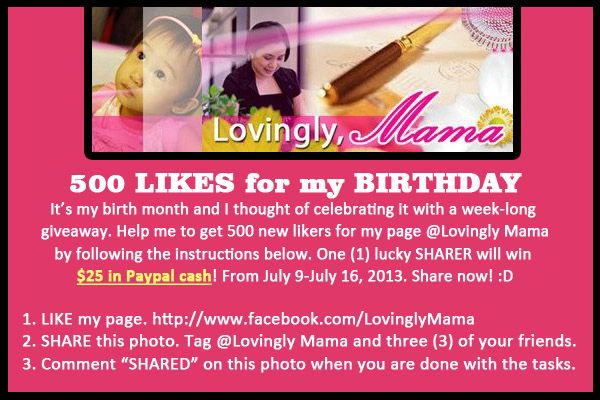 During my birthday week this month, I launched a very simple Facebook Liking and Sharing contest with a guaranteed prize of $25 to be paid through Paypal. I was hoping to raise 500 new likers with my simple giveaway, but sad to say that I only got 99. haha 1 short of 100. Anyway, I still want to thank all those who participated, especially those who shared the photo more than once and tagged many friends. I really appreciate your effort.
All in all, I had 76 entries. But when I made the draw, I realized that some of the entries did not like my page or shared the photo without tagging friends. So I had to re-draw again and again and again until I finally had my winner.
So…drumroll….here is the winner of $25! Please PM Lovingly Mama on Facebook about your Paypal address. I would appreciate it if you can send me a message that I can screen capture and publish in my blog once you have received your prize. You have three days to PM me. By Sunday, I will draw another name if you haven't responded to the announcement.