Dindin started going to her summer classes at Bright Kids here in Bacolod City. Each time she comes home, I would ask her what she learned because parents were not allowed to go in–unless their children are having uncontrollable tantrums.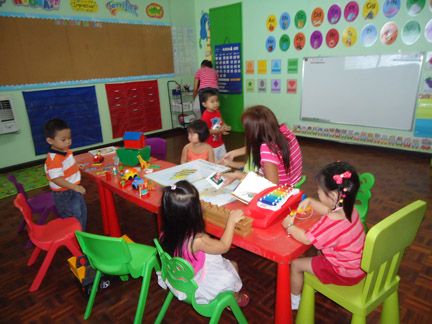 On the first day, however, I went inside their classroom during their free play session. It was a lovely big air-conditioned room with learning materials pasted on the walls. It was clean and had nice and colorful kiddie chairs–not Adirondack furniture. Dindin joined and played but then it was already time for us to leave during their lessons.

So here are her lessons:
Day 1 – Dindin reported that she made an "M" with macaroni and that she was sad because she did not know how to sing the song "Hello…hello." Whatever it was. She said that she just clapped her hands at her classmate who knew how to sing. Awwww…that melted my heart so the next day I went to see the teacher and asked what the song was.
Day 2 – I asked the teacher about the macaroni thing. I wasn't sure about her story because after all yesterday was just the first day. Teacher Grace told me that indeed, they colored uncooked macaroni and pasted them somewhere. The song was, "Hello, hello, hello how do you do?", I was told. The teacher also assured me that she will just learn to sing it because they are going to sing it every day. When Dindin came home, I asked her about her lessons and she said that her teacher put her hands together then they pasted leaves in order to make a tree. Okay, I didn't doubt her anymore. They had a homework–to bring stickers the next day.
Day 3 – Dindin said that she still didn't sing because she would rather sing the "Goodbye" song. Fine. Today, she brought a pad of Tinkerbell stickersas her homework. She said that they placed the stickers on a letter "S". I cannot picture it out but okay I believe her.
Day 4 – I did not ask her about the singing again but Dindin said that she arranged the stars and painted them. Okay, fine.
Teehee At least she has a report for me everyday. And that is her first week in summer school. 😀
I am not sure if they will have a graduation or not or if Dindin will get an award or not. But one thing I am sure of, if there is an award for Best Dressed student, I think Dindin will will it no doubt. LOL  By the way, I don't let her wear dresses to school because they always end up in the playground so it is best that she wears pants or these stretchable leggings.