Dindin will turn 4 on March 11. We have not really planned a party for her because we said that we don't want her to get used to having big parties attended by a lot of people. I debated with myself with either just buying a birthday cake for her and having only immediately family members in attendance or inviting even just her only cousin and her two best friends over.
I have settled for the latter.
Yesterday, hubby and I went out to look for a cake, party favors, and a birthday outfit for her. The theme is Kiera the Popstar of Barbie The Princess and the Popstar. I already made the tutu dress for her but it didn't come out the way I wanted. Thankfully, I found a Venus-cut dress, a purple microphone, purple sandals, and a purple wig yesterday so we bought them all! I know that even if this is a simple get-together, Dindin will be very happy to dress up in her favorite character (at least her current favorite. Look at the dress that I already made below. It is not so neat though.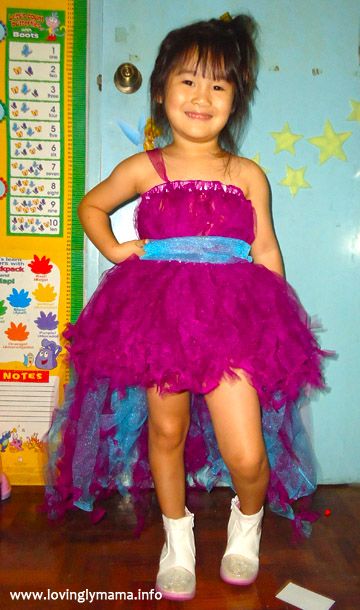 Since Kiera is a popstar, she also has a guitar. It might not be one of those coveted Godin Guitars but it sure is a colorful one. Dindin has a couple of guitars here, but one is pink and the other is brown. I am not sure if I will get a purple one, after all, she already has a magic microphone.
This week, I will order the cake and then do the layout of the invitation and the tarpaulin backdrop. Then I will prepare our simple menu. hihihi
My only problem is, the Kiera transforming doll is out of stock here in Bacolod! waaaaaaaa We are trying to find one online but it seems that it has ran out of stock in other places as well. We should have bought it while it was still new. buhuhu