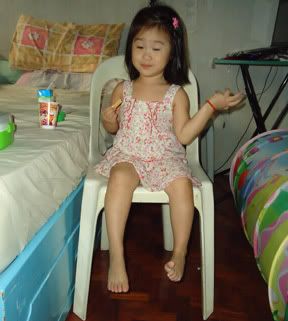 Dindin's appetite and eating behavior is very erratic. But the most common occurrence is that she does not eat much at all. There are times however when she would eat something that is more than her regular share.
She prefers play over eating and will present many reasons why she will stop eating.
1. When she has to spit out a part that she can't swallow.
2. When I give her food and there is still something inside her mouth.
3. When it is too wet.
4. When it is too dry.
5. When it is too cold.
6. When it is too hot.
7. When it is too salty.
8. When it is too sweet.
9. When on the first bite she choked…and so many other things.
But in these two instances where I took photos, I dunno, she just kinda fancied eating. haha