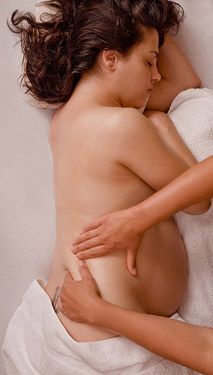 When I was five months pregnant, I took on a creative direction job that lasted until late in the evening. I was dead tired with backaches and leg cramps. I really wanted to get a massage that night but I knew that Dindin was waiting for me so I went straight home after the late dinner of our crew.
Two days later, I was at Spa Natura here in Bacolod to avail of their prenatal massage. It is a one-hour low pressure massage that uses mostly Swedish strokes to relax a tired and heavily pregnant momma. My therapist was very considerate and gentle but I told her to make the pressure stronger as here at home I do keep on asking my husband and the helper to massage me. So I am used to it. My entire body was carefully kneaded and thoroughly relaxed after the massage. Ahhh…if I can only afford to do it every night–after a day's activities lugging around extra weight.
The difference with getting a massage at the spa is that you are alone in the massage room, all is quiet, and the spa smells just soooo heavenly. And afterwards, you have some time to relax on your massage bed and unwind at the lounge with a warm drink instead of having to take care of your older kid and fix the room afterwards. No matter how much you try, you just cannot stay put at home if you are a homemaker, so this precious time in the spa was well worth it.
Prenatal massage at Spa Natura is P400 and it comes with a free drink afterwards. You are free to use the shower. Pregnant women are not allowed to use the sauna and the steam room–the massage is the most treat that you can get, aside from of course a good foot spa with mani and pedi. Although the massage is gentle and safe, you will have to secure a certification from your OB-Gyne that a prenatal massage is safe for you as the spa will not take responsibility or liability for untoward incidence.
In Bacolod City, Spa Natura is located at 2nd Level, Two Sanparq, San Antonio Park Square, Lacson Street, Mandalagan, Bacolod City 6100, Negros Occidental, Philippines. For inquiries and reservations, you can call Tel. Nos. (63) (34) 709-0399, 441-2495 & 441-2502. They are open 24 hours.