We do not have a bath tub in the house and we don't have that inflatable pool in our house either. She does have a big pool but we left it at my parents' house so that we could use it for swimming whenever we spend the weekend there.
So when we got to spend our weekend at O Hotel where our suite had a bath tub, we did not miss having Dindin play with bubbles in the bath. We tried to find a bubble bath solution at Robinsons but could not find any. Instead, our solution was with the sachets of complimentary shampoo that came with our room. We emptied three sachets of shampoo in the tub and sprayed it with water and so we had this bath of bubbles for Dindin! The photo on the left was taken during our first day and the second one was on our third day. She thoroughly enjoyed her time. But after several minutes of "swimming" among the bubbles, she would say, "All done" and we will get up and get dressed.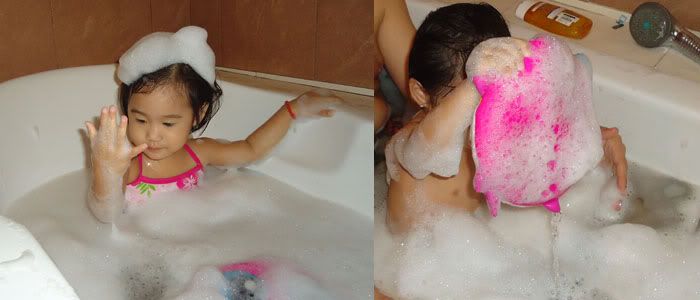 Below was her pic after one of her bubbles baths. I propped her on the bed surrounded by our white pillows. hihi I just thought this was a cute shot. I left her there while Mama took a bath.