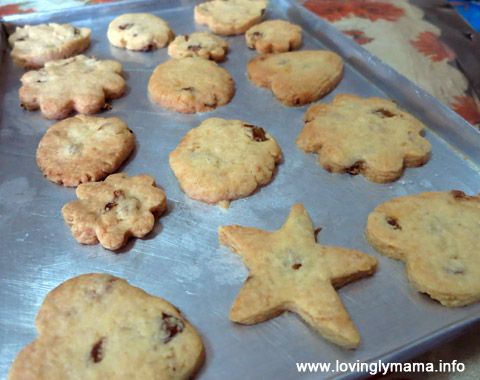 We are free this Saturday morning. Yahoo! No errands and no events (except for a birthday party this afternoon). So it's baking time for Dindin and me. I got cheap cookie cutters in the shape of a heart, flower, and heart from Saizen last week so it is time to put them in action.
I like this recipe because it only requires three basic ingredients–flour, butter, and sugar. But I added the raisins because I like it sweet and well, variety. It is additional nutrition for Dindin, too. After all, raisins are antioxidants.
Dindin helped me mix, flatten the mixture, and then cut them into shapes. But having the raisins in the batter proved rather difficult to cut. So instead, we used the cookie cutters as molds. hihi We each filled up the cutters and then removed the shaped batter onto the cooking sheets. 😀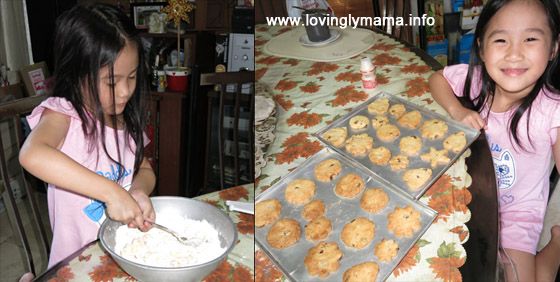 Should you want to try this yourself, here is are easy peasy Raisin Shortbread.
Raisin Shortbread Recipe
Ingredients:
1 bar melted butter
2 1/2 cups flour
1/2 cup packed brown sugar
1/2 cup raisins soaked in warm water for an hour and sliced in half
Procedure:
1. Preheat oven to 200°C. Grease your cookie tins.
2. Mix the butter, flour, sugar and raisins. Knead with your hands.
3. With a rolling pin, flatten it and use the cookie cutter to make shapes.
4. Bake the cookies for about 15-20 minutes, or when the top turns golden brown.
5. Cool before serving and storing. 😀
I am not sure how long these cookies will last on the shelf. But I am sure that with kids in the house, they won't last long. hahaha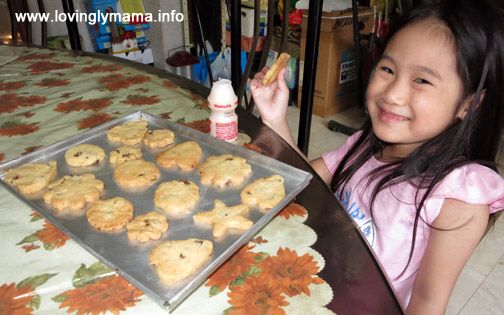 Easy right? No mixing needed. But it is already a fun and fulfilling activity for kids. When they were cooked, Dindin relaxed and ate a couple of cookies. Nothing beats partaking the fruit of your labor, eh? hihi With this recipe, I think we made more than 30 differently-shaped cookies like the jewels of scott kay for the whole family. Enjoy mommies and daddies! 😀