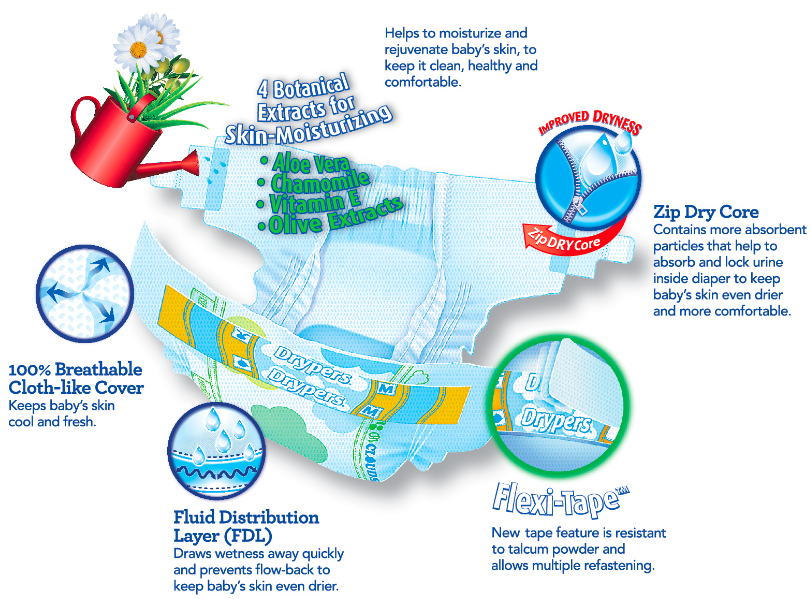 Product Feature: Drypers Wee Wee DRY Diaper features a 100% breathable cloth-like cover that keeps baby's skin cool and fresh. When you change baby's diaper after a few hours, you will notice that there is no redness on her skin and there are no strong odors because baby's skin is aerated.
It also has a stretchable waist band that hugs the baby's waist comfortably for a better fit. This prevents leaks because the diaper stays in place even if baby is moving around. Additionally, there are leak guards that gently hug baby's legs to prevent back leaks.
The durable absorbent core of Drypers Wee Wee DRY Diaper makes it less prone to breaking when wet. The diaper is also fragrance free to keep skin from irritation, however, I noticed that my baby's used diapers do not smell bad from the outside surface, so the smell does not leach on her clothes.
Now Drypers Wee Wee DRY Diaper contains four botanical extracts for skin moisturizing. These help to moisturize and rejuvenate baby's skin therefore, her skin is kept clean, healthy and comfortable, too. The extracts and their purposes are, namely:
Aloe Vera – It soothes and moisturizes baby's skin. It also has healing properties, is anti-bacterial and has an anti-fungal effect for minor skin infections.
Chamomile – It soothes and rejuvenates the skin and has some anti-bacterial properties, too.
Vitamin E – It is anti-oxidant, anti-inflammatory, anti-aging and also improves the skin's moisture.
Olive Extracts – It moisturizes the skin and improves elasticity.
Drypers Wee Wee DRY also has the new specially designed Flexi-Tape for mechanical fastening. The new flexi-tape is easy to fasten and re-fasten and allows for multiple refastening without losing its hold. It is also talc-resistant, so this is especially good for those who use talcum powder on their babies.
Drypers Wee Wee DRY keeps babies dry and rash free despite numerous wettings on their diapers.