Several days ago, Dindin was calling out to me, "Mama, go inside, go inside." I wondered what she meant and that was when I realized that she wanted to play inside her tunnel. This is her Disney Princess tunnel that her uncle (my brother) gave her last Christmas.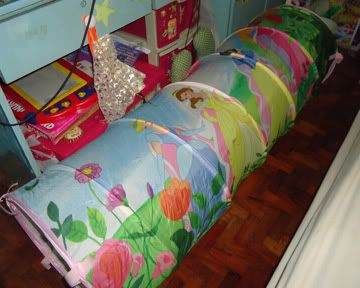 She had great fun going inside and out in her pale pink dress. One time I had her stuffed dog named Poochie go inside with her but she refused. So instead, the two of us ended up playing. I could go all the way through but I am already having trouble, so I would just popped half of my body inside but my extremities are left outside. LOL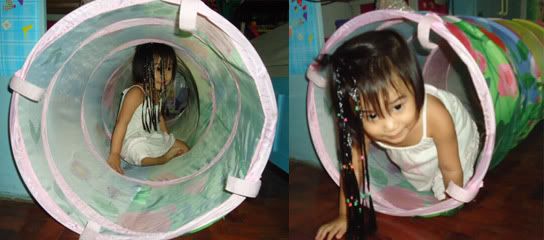 We like these toys because of the physical and analytical skills that Dindin can learn using them. 😀 Dindin would sometimes go out the other end or just turn around and go out the same way she came in. There are other cheaper tunnels but we preferred this one because well, it is girly with four of the Disney Princesses there.