Sugar and spice and everything nice. That's what little girls are made of.
And indeed it is true in last Sunday's birthday party.
You see, we were invited to a Disney Princess tea party. It's the birthday of Dindin's friend Yanna, who turned 2 years old that day. Organized by Happy Blooms Boutique, the event was just what you make little girls of. Check out the FB Page of Happy Blooms and what they can do for you.
The fondant cake was made by Cakes by Nini and it was very pretty. It had such intricate detailing of the tea pot, cups, and the birthday girl. 😀 Check out more of Nini's creations here – Cakes by Nini. Here is the FB page of Cakes by Nini.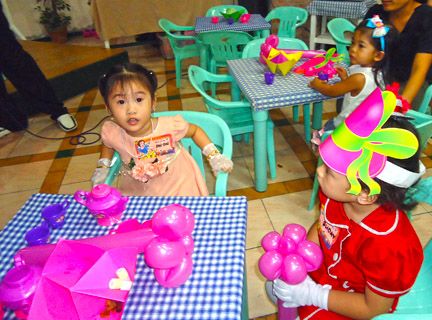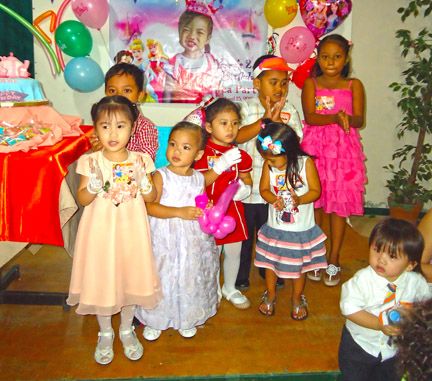 The party favors, paper plates, cups, teapots and cups, and tarpaulin background by Innove Grafx were all about Disney princess. It was just so fun to look at. Check out the FB Page of Innove Grafx.
Then the guests were asked to come in their best tea party outfits. I dressed up Dindin in a simple peach chiffon dress with empire cut bodice. The hemline fell below her knees. The original dress had a different flower on the chest but I changed it with this bunch of peach flowers with dark green leaves and faux pearl accents. I used the same kind for her hair. I tied her hair at the back and scattered diamond and pearl accents all over her head. And oh, thanks to Manang Angel, Dindin was able to wear small lace gloves that she altered for the event. To complete the ensemble, Dindin wore white patterned stockings and white peep-toe sandals. She won best dressed in the party and went home with a toy meal set. teeeheee What fun! 😀 She got to look good and got rewarded for it.
We had a swell time at the party. Thanks Tita Raygee for hosting this beautiful event. This was our first tea party for kids and we loved it! Especially the part of dressing up. And thanks for the chance to dress up. Teehee Happy Birthday Yanna!