Last time we were at SM Supermarket and I saw these thin books and I saw they were not story books but rather Paper Doll Books. The first page of the book contained the cut out of a Disney princess that you can tear out on the perforated areas. The the succeeding pages are all her gowns and the last page is the cardboard stand. Cool!
Paper dolls have come a long way from our time when I used to cut out doll shapes from my elementary school pad paper. Now, these are much sassier!
We bought all four books of the Disney Princess Paper Dolls, namely Snow White, Aurora, Belle, and Cinderella, as it was only P79 for each.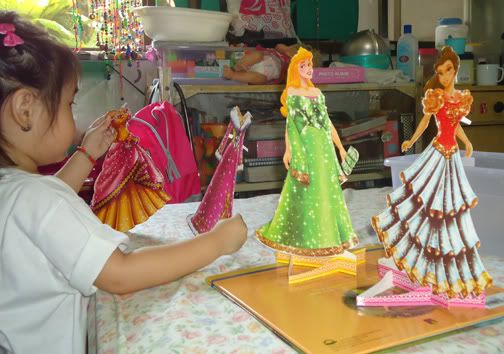 Dindin liked dressing them up and she was very careful not to tear them. If she could not do it, she would ask for my helpf and would ask me to change the doll's outfits if she wishes. I wrote the names of the princess at the back of the clothes so that we could identify them. And Dindin just looked and did not attempt to take the pen from me. She understood that my writing was to label the clothes and not just for the sake of writing. She really understood how it is to play with paper dolls!
After her dolls were all clothed, she thought of pretending to be a princess by asking for her crown and scepter.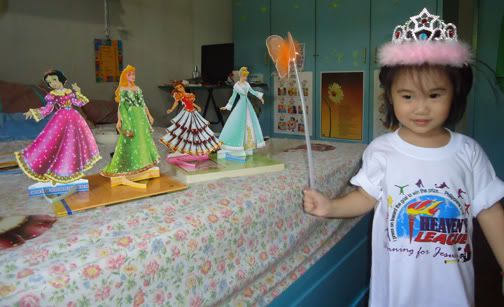 Haha If we can only live in that dream world!