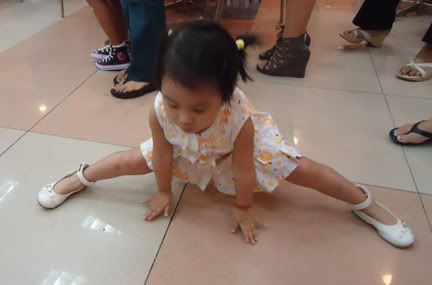 Dindin loves to dance ballet. Or at least to pretend that she is ballet-dancing. She likes to pretend play and this is one of her interests.
Two Sundays ago, we attended the post-birthday celebration of her cousin EJ at Jollibee. Dindin danced with Jollibee in a showdown that her Papa was able to video. You can watch the dance showdown video here. But aside from that, Dindin must have felt that her dress resembled like a ballet tutu, so she kept performing the split that night. But the photo above was the best one I got because most were blurred. My Sony Cybershot is not fast enough for her movements.
And to think that her white shoes also look like ballet shoes. LOL She must have felt like a real ballerina. A friend of mine commented that I should enroll Dindin when she turns 4 years old in a formal ballet school. Well, we will see. If we can afford it by that time. LOL The last time I asked, the monthly fee is P1,950 for two sessions per week. So we will see if we will be able to send her to ballet school.