Many parents have made the switch to cloth diapers for their babies because of their benefits. Below are some of the benefits of cloth diapers.
BENEFITS OF CLOTH DIAPERS
COST EFFECTIVE
A pack of disposable diapers costs around Php 200 – 400 and will last for a week (sometimes less). If you invest on cloth diapers, your little ones can use them until they become toddlers.
SAFE AND HEALTHY
Cloth diapers do not contain any chemicals that will hurt your baby. Disposable diapers contain Sodium Polyacrylate (absorbent gel) that is linked to Toxic Shock syndrom. It also has Dioxins. Dioxin is a by-product of chlorine and is linked to developmental disorders.
ENVIRONMENT FRIENDLY
Do you know that it takes around 500 years before the disposable diapers get fully decomposed? With cloth diapers, nothing is thrown out.
SUPER CUTE!
Cloth diapers have changed since then. What used to be plain white nappies have now evolved to a more fashionable and super cute designs that you can choose from.
Now, would you like to have a cloth diaper set composed of (1) shell + (2) microfiber inserts? Join this giveaway by the Pink n Blue Shop of Bacolod City. Here's a little something about this relatively new online shop, written by its owner Krystyna Quimpo.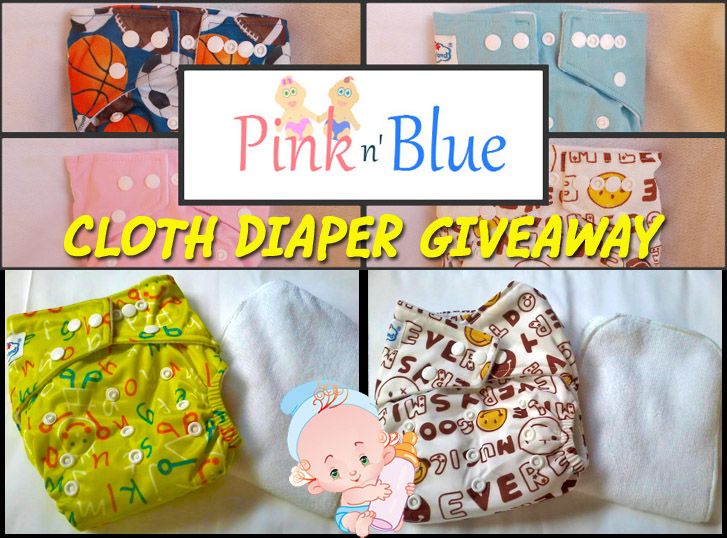 ABOUT PINK N BLUE SHOP
Pink n Blue is a shop that primarily sells cloth diapers and cloth diaper accessories. Having been cloth diapering my son for years, I was able to recognize its benefits and I would like to share and spread the love for such.
I want Pink n Blue to be a one stop shop for any mother's cloth diapering needs including addressing any cloth diapering challenges. Expect me to personally answer any questions you may have about cloth diapers. Believe me, cloth diapering is not as hard as you think it is.
Aside from cloth diapers, I also sell other baby items such as the reversible shoes and the uber cute busha pants and shorts. In the future I may offer something for the moms, too. To order, you can fill out our Contact Form found in the Pink n Blue Facebook Fanpage and we will get back to you within 24-48 hours. Payments can be made through Chinabank, Unionbank or Paypal. COD is also an available option if you are within Bacolod City, I can do meet ups at the Lopue's East center.
Without further ado, I now give you the Rafflecopter form for this easy-peasy giveaway. Just do the three (3) mandatory tasks of liking the Pink n Blue and the Lovingly Mama fanpages and leaving a comment here and you already have three (3) entries to this raffle. This giveaway is open to residents of the Philippines only. It starts tonight until June 30, 2014. Winners will be notified by email and will also be announced in an updated version of this blog post. Prizes will be shipped to the winners by the Pink n Blue shop. 😀 Join now! 😀