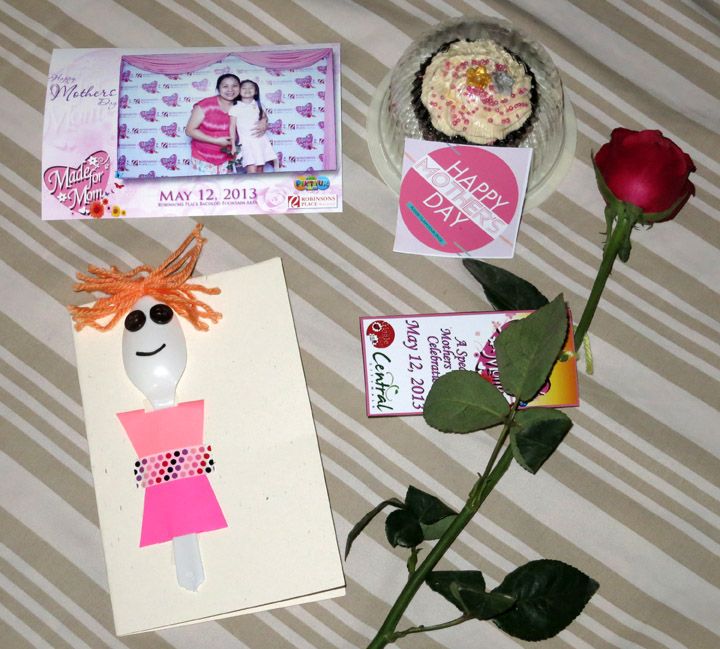 First of all, Happy Mother's Day to all the mothers in the world! 😀
Secondly, I am writing this because of an article that I read recently that disturbed me.
You see, if you are a member of a Christian church, you will be very happy to attend worship service on a Mother's Day Sunday. That is because the church usually prepares something for the mothers present, like a token or a small gift, which is presented during a special time.
Usually, the routine is done, the praise and worship, offering, and sermon, and before the pastor gives the benediction, the mothers in the room are asked to stand and they are prayed for. If their children are present, they are asked to be with their mothers so that they could pray for them while the rest of the congregation pray for all the mothers. Then the moms are presented with the tokens, usually by their kids, if they are around.
It is such a nice sight to see women of different ages, standing up, united in the life-long profession of motherhood. Each one has a story, each one has a different background, and each one has different number of kids.
I remembered that a couple of days ago my husband showed me a blog of a lady. I gather that she is single and from the United States. She brought it to the attention of their pastor to consider unmarried women and those who are struggling to become mothers during Mother's Day. While they are not against the celebration of Mother's Day, they (along with other women) are having problems when mothers are being made to stand up during the worship service to be honored because they feel left out. So they made suggestions on how to celebrate the day in church and emphasized that mothers should not be made to stand up so that the rest of the women will not be hurt.
I am not sure how to describe how I am feeling about this. Here in the Philippines, making mothers stand up in church during mother's day is like the norm. And although I already have a kid and expecting another one so I am already qualified to be a celebrator of this day, this wasn't the case at first. You see, I had always dreamed of settling down at 24 and having my first child at 25. I thought that was old enough and I was ready. But it seemed that God didn't think so. I got married at 32 and had my first child at 34. Through these times of waiting, I also agonized to have my own family. I wanted to stand up during Mother's Day recognition, too. I was broody most of the time, to say the least. And it didn't help that when I went back to my school to speak for the closing ceremonies of the kindergarten, the kids who graduated there were mostly the kids of my batchmates. I was 20 then. So you can just imagine the longing I had for the last 14 years!
But you know what, I never did once thought that I will forbade, or at the very least, suggest that mothers should not be made to stand up during Mother's Day celebration in church. I was lonely and longing, yes, but I did not see the point that just because I am not yet a mother doesn't mean that we should not give mothers a little recognition on this day. While this is not an official holiday nor a holy day, it is just a little something to all mothers out there. If it is not for me, then I would gladly give it to my mother. And all of us have mothers, right? Nobody just appeared on the face of the earth. Somebody had to carry us so that we can live.
You see, while I am not yet a mother, I still have my mother, my aunts, and the mothers of my friends in church. I took a pro-active role then–I honored my own mother and I celebrated with the rest. No hard or hurt feelings there. That day is not for me, it's for mothers. It's like saying we shouldn't celebrate Heroes Day because I am not a hero and desperately want to become one. Or there shouldn't be beauty pageants parading sexy and fit girls because I am fat and I desperately want to be thin. Or we should not recognize the people who topped the class because I flunked. Or there should not be Valentine's Day because I don't have a boyfriend. Awww c'mon. It's just about 5 minutes of fame and prayer for the mommies–a little time for an entire year–don't they deserve it after all that they have sacrificed for their children? Couldn't we give it to them? C'mon.
The entire church cares for people who are single and those who are struggling to get pregnant. I, too, struggled, and there were people who prayed with me and for me. They were very understanding of my struggles and they do that the whole year. Some of them are married and some have kids. How selfish would I be that for the rest of the year that they were very understanding, considerate, caring and loving towards me, I would hinder them from standing up during Mother's Day because I am not yet a mother myself? And for the 5 minutes that we dedicate to mothers, we should withhold it from them so that we can be considerate to those who aren't mothers?
I am sorry to say this, but this is day is for mothers and those who stand in as mothers to those who don't have. Let's not take it away from them.