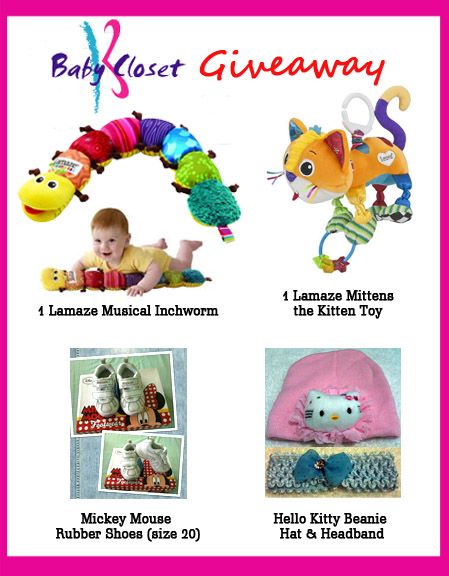 Hola Mommies and Daddies!
When I was about to give birth to my second baby, Shane, I discovered an online seller on Facebook that sells baby and kids stuff that are reasonably priced. It is called BabyCloset.ph. You can visit her page, BabyCloset.ph. The first thing that attracted me was the Lamaze Musical Inchworm. It was priced at P360. But seeing that I could get three toys at P1,000, I ordered two more as well as a headband and bonnet for baby. And I love them all! The order processing and payment system were easy for us and the owner is very understanding that I was not able to immediately make the payment because I was already admitted the following night and subsequently gave birth. But she graciously reserved the items for me. 🙂
She has so many unique stuff–toys, books, accessories, clothes and baby care products–all reasonably priced. I so thank her for the MotherCare Walking Assistant that she gave me. 😀 This will be very useful for Shane when she starts to walk.
When I was already able to move around and get some online work done, I asked her if she can sponsor a giveaway here and she readily said yes! And one of the prizes is the Lamaze Musical Inchworm? So would you like this, too, for your baby? Because my baby certainly loves hers! 😀
So what are you waiting for? Here is the Rafflecopter form to get you going for this contest. There are only three mandatory things to do in order to unlock the rest of the tasks for more entries–to like the BabyCloset.ph FB page, the LovinglyMama FB Page and to leave a comment below. All the rest are optional to gain more entries. Some of them can be done once a day. 😀 Join now!

Here are the photos of the prizes up close.