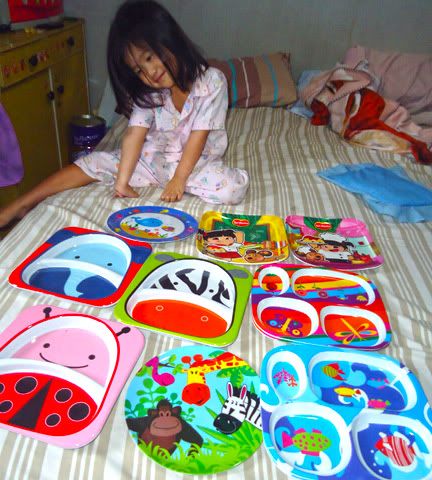 When Dindin was younger, I started buying Melaware dishes from Gaisano City that they sold per kilo. It costs P99 for a kilo and you couldn't just buy one piece–a kilo is their minimum. We bought several with different designs and recently, we did it again. Last time, there were a couple of freebies with del Monte spaghetti and that added to our collection.
I just love the colorful designs–some have animal prints, some have little red plants from the sea, while others had food designs. Some were flat, some were round, and some had separators. They are all colorful.
When I took this photo, I realized that we had collected so many plates already and that is for someone who thinks that eating is optional. LOL Ironic, isn't it? Well, when she was younger, I thought that using plates with interesting designs would get her to eat more.
But I realized that a plate was not what she needed–she needed a mother who paid careful attention to her while she is eating–not on the computer, watching TV, or talking to others. When I did that, she ate some more.
If you think, however, that some nice plates would help your fussy eater, then maybe you could invest in some. They don't cost too much anyway.