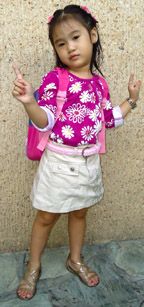 Signed by her Teacher Anya and Teacher Grace, the following was Dindin's summer school report from Bright Kids. This was re-typed courtesy of her proud Papa. I did not expect this so when I read it while they were having their swimming activity, I had to step side because I couldn't help the tears from flowing–tears of pride and happiness. 😀
"Since the start of the summer class, Shawna has been one of the most adjusted kid in class. She did not exhibit any separation anxiety despite seeing other children crying or looking for their moms. The moment she walked in class, she seemed at ease and started playing and talking to teachers. She shows good social skills and mingles well with them. She now knows all her classmates' names and if ever someone is absent for the day, she would immediately inquire why they were absent and whether they would be back in school the following day.
We like that she is polite and plays nicely with her classmates. She is a very welcome addition in class as her enthusiasm for doing things is contagious. She is very appreciative of whatever activities teacher has prepared for the day. She would often be heard saying comments such as "I really liked the story" and "that was fun." It makes our work lighter to hear such words of appreciation from her. 😀
In doing art works, Shawna does every given work to her neatly. She would also remind her other classmates to follow what she is doing and not to spill paint on the table. During the first 2 days of class, Shawna was hesitant to touch the glue and had to ask for a paintbrush from teacher to stick her collage. But as the days passed by and she has shown greater interest and fondness for doing art together with her classmates.
Shawna would always act like the little teacher in class. She would always follow what the teacher is saying and likes to volunteer in pointing to the colors and shapes on the board. Shawna talks and thinks like a big girl already. There are times when we forget she's only 3 years old. Her expressions and the way she talks often bring a smile to our faces.
Academically, she knows her colors and shapes. Alphabets and the sounds are already mastered. Shawna has shown readiness for school. We hope that she enjoyed her summer class with us. 😀"
Awwww…What especially touched me was how she made her teachers feel good by praising their work. Everyone feels good when praised, so I guess we should say it to others more often. Thanks for teaching us this, Din. 😀