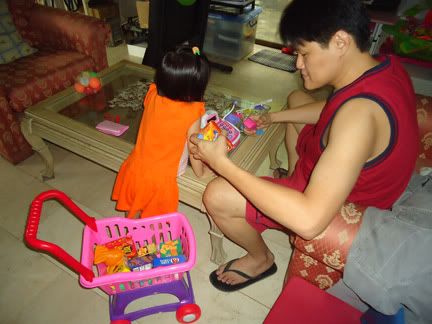 No, we do not have a grocery at home nor did we open a grocery store. But Dindin has the grocery cart and cash register as gifts during her second birthday. We had already opened the cash register last time but I kept it after sometime. Last weekend, I opened the grocery cart and then took out the cash register again so that we can play grocery store.
I filled up her Disney Princess wallet with some play paper money and an old ATM card (simulating a credit card) so that she can pay for her purchase. As you can see above, Dindin is the shopper while Papa was the storekeeper.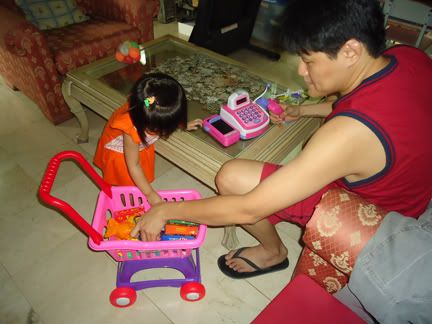 When Dindin was younger, we also bought her a small tray of money that looks like the interior of a cash register. Papa believes that if you give a cash register to a child, she will turn out to be a businesswoman but if you give her a wallet, we will just be teaching her to be a consumer. Does it make sense? Makes sense to me. LOL And so businesswoman she will be. hahaha
This is one of our pretend play sessions at home. The grocery cart and goods were a gift from the Pe family–our wedding godparents and Tita Che, Tito William and baby Perle. The cash register was from Tito Robert, Tita Stessie, and Robert Jr.