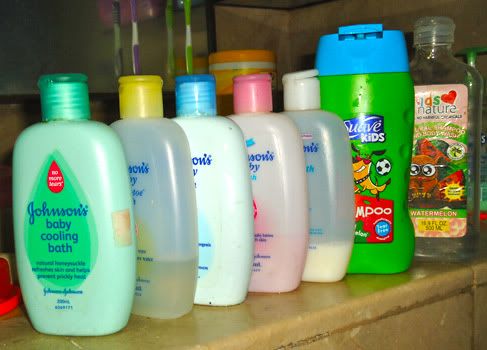 Dindin has always disliked the water and I try to find ways and means to make bath time a pleasant one for her. Sometimes we bring toys or I would bring in a wash basin so that she can have a bubble bath. Our shower room is quite small, so I can only bring in a small basin that is just enough for her to sit down. But she loves the lather all over her. I just couldn't find the photo of her on the basin.
Another thing that I come up with is using a color game during bath time. I noticed that Johnson's baby wash come in different colors and scents (which I all so love), so I thought of buying the different variants. Of course, I did not buy them all at the same time because that would put a dent on my pocket. But every time I went to grocery, I bought one. I also bought the watermelon shampoo by Suave and the strawberry shampoo for kids from Human Nature. I also have some body scrubs, dead sea salts, and body wash myself, and sometimes I let her play with the bubbles, too. I just don't use my own set on her because these products may be too harsh on her young skin.
Anyway, in the game, I would let her choose the color that she wants to use for the day. She could opt for a different color for her hair and a different color for her body. She just loves it. Sometimes, I would make suggestions and she would negotiate. Maybe, she likes it because she is given a choice and she gets to make a decision.
We just love this game and I thank Johnsons for their many variants of baby body wash. Dindin still gets fussy when I rinse her hair, but at least, she is looking forward to this little bath time game that we have.