You might think that I am exaggerating when I say that Dindin loves to play fitness instructor to us. Look at the photo above.
One night, when her A-ma and Koko came inside our room to play with her, she got them to sit on the floor and bend. Well, she had many exercises after, but the three of them look kinda cute doing this that I couldn't help but take a picture. teehee Such a lovely moment to share!
Now, faster this time, A-ma and Koko! LOL Look how she is enjoying it!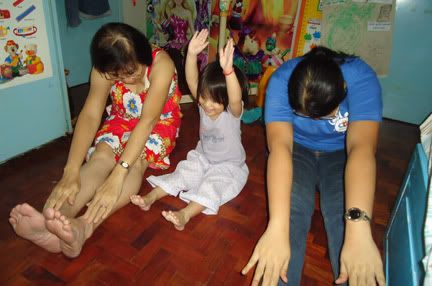 Sometimes, we are already lying down on the bed and she would tell us, "Follow me." And she would start raising her legs. The leg raise is good for the lower abs by the way. But since our legs are too heavy and do not get much exercise, it doesn't take long for Papa and Mama to be catching their breaths. LOL But Dindin continues. And you know what? When she performs her leg raise, her feet do not touch the bed when her legs are down. She keeps them suspended and then goes back up again. No wonder she has such toned abs!
It is just funny how this little lady is turning out to be. She has many things that are in stark contrast to our usual practices, such as being able to control her food intake, her discipline in exercise, and also her manners. LOL She is like royalty! hahah