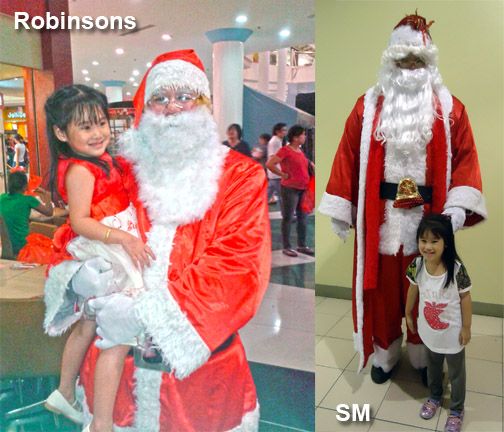 As many of you know, we did not teach Dindin that Santa Claus is the giver of gifts on Christmas. For her, Santa Claus has the same stature as Elmo, Jollibee, or Tinkerbell. It has always been Mama, Papa, family, and friends who give us gifts.
Santa Claus is a fictional character. And we don't have problems with that.
But she knows who Santa is so when we saw Santa Claus at the mall, it was a perfect photo opportunity. The first encounter was at Robinsons Place Bacolod. I think the malls do hire these Santas to roam around the mall to greet customers and also give cheer to the kids. At Robinsons, the Santa stopped, picked up Dindin, chatted and posed for a photo op with the happy kid before walking away. Look at how jolly he is in the photo.
The second Santa that we met was at SM City Bacolod. We spotted him at the Bridgeway and when he saw us, he motioned for Dindin to come to him near the wall for a photo op. I asked him if he could carry Dindin because obviously, he was so tall and Dindin would be very far from him in the photo. He curtly replied, "No."
So I was like, "Oh okay" and just proceeded with taking the picture. After the shot, he swiftly turned away without even saying goodbye. I hate to say this, but it seemed that the Santa at SM wasn't in the mood for some holiday cheer. Maybe he was having a "bad beard day". Too bad. Maybe he shouldn't have been Santa because kids would be devastated with his behavior. Thank goodness Dindin did not notice what he did. She would have been more devastated if Jollibee did that to her–that would surely break her heart.