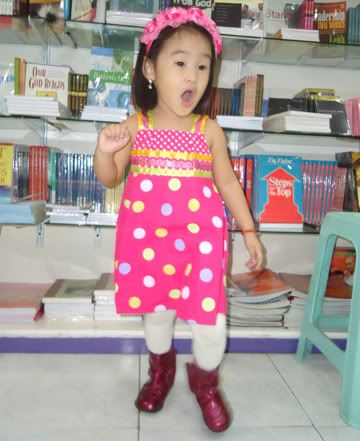 At a young age, Dindin is more interested in money than candies. She doesn't eat candy and but she thinks that she has more use for money–she can put them in her piggy bank. That is why we just can't leave money lying around, or else they will end up in her piggy bank.
Last time, we were at Gaisano and she wanted to buy a toy cake. She went to me carrying a box. We asked her if she has money and she said yes. So here is how our conversation went:
Mama: You want this?
Dindin: Yeah.
Mama: Do you have money?
Dindin: Yeah.
Mama: Okay, give me money.
Dindin handed me the box and simulated getting money from her pocket and she realized that she does not have pockets nor money. So she just said, "Uh-oh…", turned around and went away. LOL She understood what having money meant. And because she doesn't have money, she could not buy what she wanted. LOL She never bugged us again. But we bought it for her anyway and kept it for her Christmas gift. We had long been looking for one and that was the cheapest that we found at P150. Of course, it was made in China. LOL
Anyway, the photo above has a funny story. We were at PCBS and because the lighting was nice, I thought of taking photos of Dindin. She did pose for me and I was already able to take many photos of her. But in this shot, Dindin was posing when the change of the lady paying at the counter fell. At the sound of the coin hitting the floor, Dindin gasped and said money! That was what I caught on cam. hahaha Look at how expressive she is! It is just funny how she values money, not really to buy stuff, but something that she has to keep. Chinese influence too strong? hahahah
On another light, there are now more and more Registered Nurse Jobs in the United States. That is because the importation of skilled nurses from other countries, particularly in the Philippines, was temporarily halted. While it is good for American citizens, many of our registered nurses are sad about this. But maybe this is just temporary. This will probably be lifted soon.