Whenever there is a new Barbie video, you would be sure that there is a matching doll to it. Late last year, it was Barbie Mariposa & the Fairy Princess Catania.
Dindin wanted the Catania doll so much. Usually, when she wants something rather expensive, we would tell her to pray about it, like she did with her Baby Alive Doll and it was given to her by somebody who is not even a close friend of mine. This time, aside from telling her to pray for it, we told her to work for it.
And I made sort of a rewards chart. The aim of this is not only to give her something that she really liked but also to modify behavior using a reward. Hubby and I talked about this. He said that there is nothing wrong with it, after all, our heavenly Father also rewards good deeds. But since the doll is really expensive at P1,800, I thought that she should also accomplish many things (while at the same time looking for ways to get it cheaper, which I did).
Below is her Rewards Chart. She gets a check whenever she accomplishes something. Some of the tasks in the chart include finishing her meals within 45 minutes, drinking her milk in 10 minutes, being nice, packing away, and saving money. These give her multiple checks in a day. If she doesn't fulfill the task, she doesn't get anything. But we observed that withholding the check did not really do much and eventually, it got boring. So instead of not giving her a check, we instead gave her extra checks or rewards boosters. For example, if she finished her milk in 5 minutes, she gets 3 checks.
She finished checking all the boxes after more than a month. And on the day that she checked the last box, she was ecstatic to say the least. Look at her face below.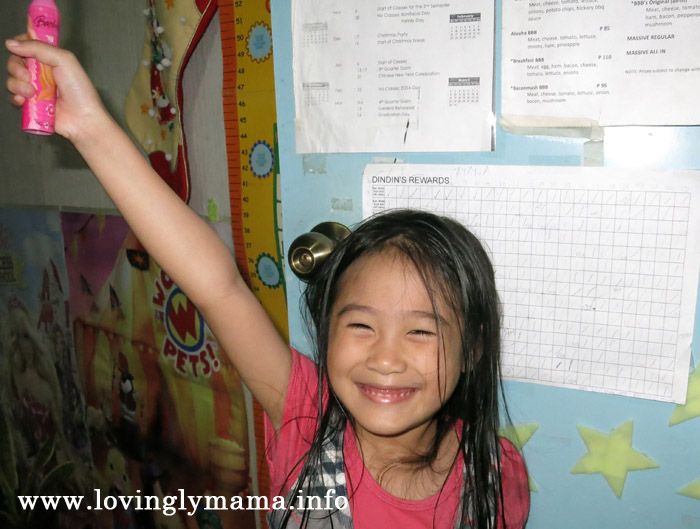 And although she really, really wanted the doll already, I told her to wait for her Papa to be done taking a bath before the reward was awarded to her. We had sort of an awarding ceremony below. hihihi Never mind that Dindin's hair is unkempt. I don't usually comb her hair when it is wet if she is only staying at home.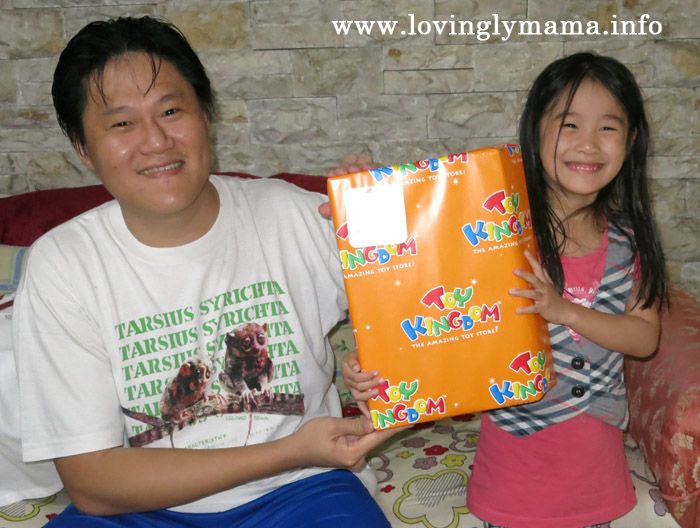 You can also do this on your own children, based on the reward that you can afford. The tasks can also vary, depending on the behavior that you want to modify. In our case, the most important behavior for us was the eating and the drink milk part because feeding her can be a real pain. Thankfully, by the end of the rewards chart, she was already finishing her meals in 30 minutes and her milk in less than five! Imagine that! And all these years, we had labored to get her to eat and drink milk fast! Waaaa
Be flexible in doing the rewards chart. There are other things there that were just not possible to fulfill at the moment, so we replaced them with the tasks that she was doing rather fast. Otherwise, it would take forever to fill up the entire chart.
The objective of this rewards chart is behavior modification and to teach kids the value of work. The aim was to teach her that there are some things in life that we have to work hard for. And in her case now, that is her Barbie Princess Catania doll. It was expensive yeah, but in our case, the benefits that the whole activity gave us was far more enriching. 😀