No, I am not talking about those who belong in the royal family who are already born with titles. But I am talking about Dindin who worked hard for the crown she is wearing on her head. 😀
You see, her Aunt Maricar of ColorKiddos gave this to her. Of course it was a crafts project, but I thought of taking it another level and teaching her a lesson about it–there are things in life that we have to work for.

The package came with a crown that had a number guide on it. It has a legend where you can match the glittery stickers and gems on the crown. It was painstaking because there are 250 pieces that you have to stick on the crown. And for a three-year-old kid, that is quite a lot.
I guided Dindin on how to do it. I gave her a tweezer to use in order for her to easily position the pieces. With the finger on her other hand, she will have to press the stickers so that they will stick. I would help her with a couple of pieces and then she would do it herself. We kept doing it for two mornings and two afternoons. We would put it on the shelf and just come back to work on it again.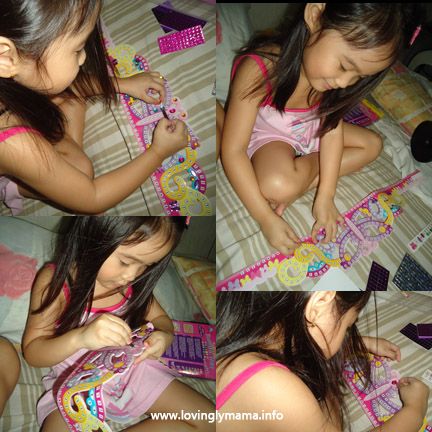 And finally, we were able to finish it! She was so happy and satisfied with her work! She asked to wear a princess dress but since we don't have a gown, instead I let her wear a dotted skirt. She also wore her white shoes and she pranced around our room for a long time.
I told her that it feels so good to work for what you have. She may not fully understand that yet, but I know there is already a seed. I think the crown was the perfect project because she like pretending to be a princess so I know that the lesson will stick. The crown is something precious for her. 😀
I think it is a great thing to teach our kids that they have to work for what they want. It should never be enough that we provide nice things for them because that will be too easy. It is our responsibility to teach them to work and fend for themselves. And I think Dindin appreciated her tiara more because she worked for it. 😀
And here is an interesting happening. There were extra pieces of glitter stickers and with some board, we made it into a cellphone! Dindin was so happy. It's a good thing that her only phone pal is her Papa! LOL In this one kit, we made two projects!