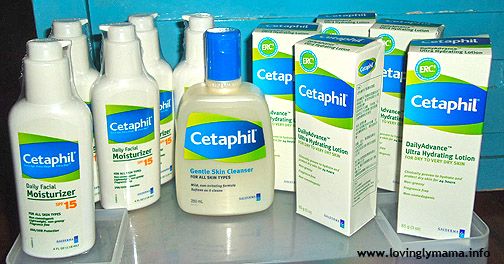 It has been a month now since I have been using Cetaphil gentle cleanser and moisturizer on my daughter and I can say that there is a huge difference on the texture of her skin. It is more supple and soft to touch. Too bad my camera isn't that clear in order to capture the difference.
You see, my daughter's skin is really dry, especially that on her legs. And you can really feel its coarseness when you ran your fingers on it. Ever since she came out of the hospital when she was born, I applied thick lotion or cream on her because of her dry skin. I did not know about Cetaphil then and it was only last month that I started using the product. She is already four years old. I used the Cetaphil Gentle Skin Cleanser and the Cetaphil Moisturising Cream on her body and they are working wonders.
Today, I got a package in the mail and it contained the Cetaphil products pictured above. Thank you so much Cetaphil Philippines for my October allocation as a Cetaphil brand ambassador! And because I am grateful, I am cooking up another giveaway similar to the last one I hosted here, Lovingly Mama Cetaphil Giveaway. It was very successful, thanks to you my dear readers, for the many entries that you sent.
But I haven't decided how to go about it yet or what blog of mine will host it. But don't worry, I will also announce it in this blog.
I so love Cetaphi products l and I am sure that if you try them, you will definitely make them a part of your skin care regimen.
Note: "All statements and opinion contained herein are those of the author and independent of the sponsors."