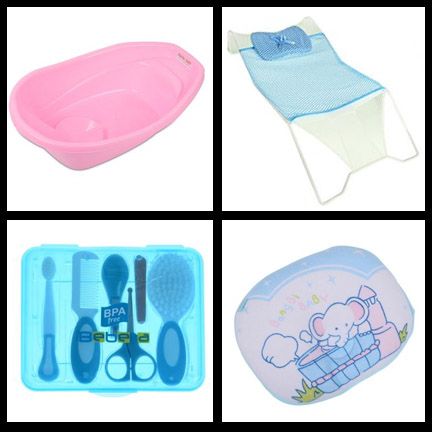 At 32 weeks of pregnancy, I was ordered to be on bed rest. While I am not yet dilated and my cervix is still quite thick at 4cm, I was already having contractions and occasional spotting. At first it was fresh blood. Eventually, it was brown. But it still continues till now.
My OB-Gyne ordered an ultrasound and so I underwent a pelvic and a trans-vaginal procedure just to determine what is causing the spotting. My doctor was concerned that my old uterine scar from my previous Caesarian Section had dehisced. But it was not the case. At least there was nothing to worry about. But I was still ordered to be on bed rest.
However, when I went home, I realized that I have not prepared baby's stuff and I still have a lot of things to buy. I panicked, for there is a possibility that I will deliver any time soon. And even if not, my due date was already nearing.
I had the helper take out some of Dindin's old stuff and had them washed and ironed immediately. We went to buying a new cabinet for Siobe. I did not work on these earlier because I thought there was still plenty of time and I was so busy.
I thought I was fine until I realized once again that I still have supplies to be bought from the supermarket and stuff for the baby, such as bathing and sleeping accessories. So I had my hubby go to the supermarket to get the things that were needed immediately, such as cotton balls, maternity pads, lotion, bath solution, and even newborn diapers.
As for the other things, I was thinking of going to a local mall to get them on my 34th week. But then I remembered Lazada and how I had conveniently bought things from that online shopping site. I browsed through their selections of bath tubs, bath nets, diaper bags, toiletries, and baby support pillows and found that there were good bargains available. And the colors I wanted were available, too.
Since the total of all the things I bought was more than P1,000, I get FREE SHIPPING.  And I would not have to take a step outside of our house because my orders will be delivered right at our doorstep. How cool and convenient is that for an expectant mom on bed rest?
I also like the fact that you can pay through credit card (with installment plans available) or opt for cash on delivery (COD). How lovely and efficient. And if there are concerns regarding your order, they have an efficient customer service support that is open all week. You can reach them at (02) 795 8900, Mondays to Friday, from 8am to 9pm, and during weekends, from 9am to 6pm.
Ohhhh….I love Lazada and the online shopping experience that they provide!