September 12, 2011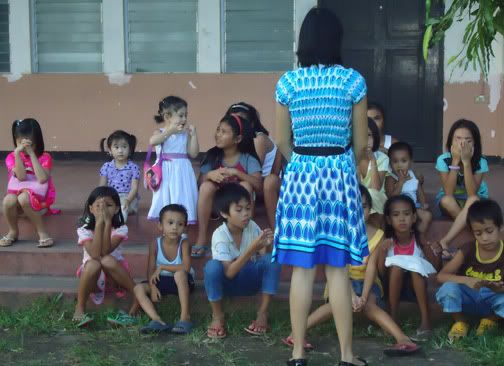 Dindin does not usually stay and attend Sunday school because she would rather go around the Trinity Christian School property.
But yesterday, she was with her Papa and I knew that they were outside. Then when I went to the restroom, I saw that she was actually joining the Sunday School and enjoying it. haha I caught her on cam and she was listening intently to Tita Gervi. Her papa said that when Tita Gerv asked what they would sing next, Dindin replied, "How about, 'Jingle Bells'?" haha Joker.
She also joined them in the snacks. Dindin is really growing up really fast. In the photo above, that is her friend Gianna beside her.
Anyway, on another light, it is nice to come here to Villa Angela (where the school is) because despite the big houses here, it is still surrounded by sugarcane fields. It is really refreshing to be surrounded by greens and to breathe fresh air because of the amounts of oxygen that these plants spew in the air (as opposed to the emission from cars). It would be nice to have an ATV to use to just drive around these areas and feel the cool afternoon breeze brush your face and blow your hair. teehee But I think that ATVs are way beyond our budget and that ATV Parts may be quite hard to find where we are because there are not many ATV owners around here. I am just pretty sure that Dindin would enjoy the ride. 😀