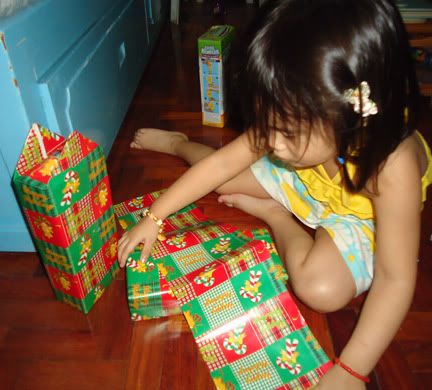 Part of Dindin's Christmasexperience is buying, wrapping, and giving away presents. She has helped me pick out most of the gifts that we are giving out and she knows what's inside of them. That is why even if the gifts do not yet have labels, she gives them to people who come to them house because she knows these are for them.
One afternoon, we were supposed to go somewhere and we passed by her grandmother at the store and we informed her that we were going out. A-ma asked where Dindin was doing and she answered, "I'm buying presents." Teehee
I am just glad that at a young age, Dindin knows that the holidays isn't just about getting Christmas gifts but also in giving them away. I am also glad that she has realized that not all the wrapped things are for her, even if these are toys or books. And yeah, we teach her about Jesus Christ and His role in the celebrations. We also show her the Christmas episodes of Veggie Tales to reinforce the teachings.
Yeah, she knows who Santa Claus is but she is not aware of the man in the red suit giving out presents. We do not exactly tell her that there is no Santa because she sees his image everywhere. But I guess for Dindin, Santa is as real as Tinkerbell. haha
This is her third Christmas and what she is aware of is that the people who love her give her gifts–not Santa. So I guess, there is no problem there with breaking the news to her.
Note: To Dindin's friends, I apologize if the wrapping paper is crumpled. After reading this, you know why.