On this day, I have already confirmed that I am pregnant after a couple of pregnancy test kits turned out positive. It would be my 6th week.
January 1, on our way back to Bacolod from Dumaguete City (which is about a five-hour drive), I thought I was just having motion sickness. I slept most of the trip even if Dindin was awake beside me. I was sooo tired and queasy, too. But when we got to Bacolod, I wondered by the queasiness continued until January 3. So I tested. It was positive. I tested again the following day just to be sure, and sure it was, I got another positive reading.
And today, we went to the clinic to have a Trans V ultrasound and it was found out that I was already six weeks and three days pregnant. Wow!!! A blessing indeed. After almost four years, Dindin is going to have a sibling. I underwent the ultrasound because I could not exactly pinpoint my LMP and therefore do not know the gestational age of the baby. The embryo (that's how the baby is called at this time, right?) is already .6cm long and already has a heartbeat. It beats 123/bph. 😀
Took me some time to share this and this post is ante-dated because we wanted to surprise my father-in-law on his birthday. 😀
We are praying and claiming our baby boy. I am also praying for a safe and comfortable pregnancy until delivery, though I already know that I will have a scheduled C-Section in August. We are praying for a healthy baby boy. 😀 Thank you God for wonderful news for the New Year.
My 6th week pregnancy ultrasound: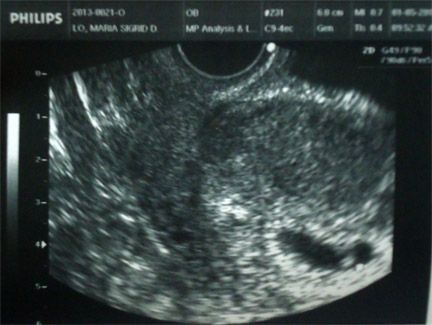 While I take in this wonderful news, I am really tired, cranky, and queasy. No, I don't have morning sickness but it seems that my stomach is always troubled. On January 1, I took two tablets of antacids just to calm my tummy. And while I do not snap at other people, Dindin is usually the one who would receive most of my impatience. I was also pretty weepy that my husband said that I should really decide to be happy, now that I know that I am already pregnant and it is the hormones that are making me sad.
My other early pregnancy symptoms are frequent urination and burping. And oh did I tell you that the smell of my pee sucks?
Okay, now we start the journey. hehe