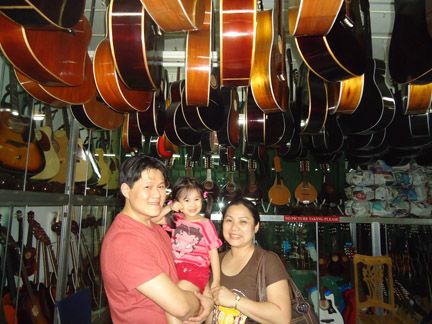 When we planned our trip to Cebu in order to attend the wedding of Dennis' cousin, we allotted some time to go around city. It was not to go shopping but to see sights as tourists because we know that it was the perfect opportunity to educate Dindin about the country. And of course, the opportunity will open her eyes to many new things.
One of the things that we planned to do was to visit a guitar shop and to let Dindin pick her first guitar. I could have bought one for her two weeks ago when I was in Mactan, Cebu, but I thought that it would be nice if she could visit one and actually choose her own instrument.
And so we went to the Cebu Guitar Store at the Carbon Market, Cebu City her Aunt Lilian, whose family had a store in the area. Dindin was just so amazed at the many guitars displayed all around the store as well as from the ceiling. She was also especially interested at the guy who was boring holes on the guitar so that he could attach guitar strings.
I asked if I could take pictures and the guy allowed me. But it was only later that we realized that there were signs that say "No Picture Taking Please". One of the favors we got for this trip. And to think the owner was just sitting on the bench looking at us.
Finally, it was Dindin's opportunity to choose her guitar. She pointed at one that was painted with a seaside scene. She checked it and asked for a brown guitar—or one that is varnished and is most common. She strummed it a few times, returned it, and asked for a new one. It was as if she was listening to it and checking if it sounded right. Really? Teehee Finally, she settled for the third one. We paid P80 for the kiddie guitar.
Well, that was a fun and educational trip for Dindin at the Cebu Guitar Store.