October 13, 2011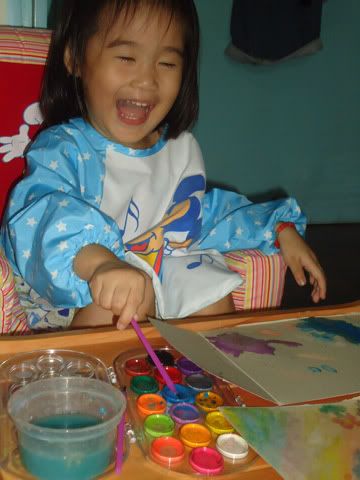 Dindin's new interest is painting. There is really nothing complicated to it. She would dip her paintbrush in water, dab it on a color, and then swipe it on paper. Then she calls it, "painting." It is more like an abstract painting and then we would praise her because she would proudly present it to us.
That's fine, she has to start somewhere. In this photo, she is wearing a protective piece of clothing from her 2chim. It's like an apron, only that it has long sleeves.
The problem is, she would not let me work. She wants me to paint with her. I have to have another brush and another sheet of paper with which to fill out with color. Then for what seems like eternity, she would ask me over and over again in a monotone, "Mama, you want to paint?" "You want to paint, mama?" "I want to paint, Mama." "Mama get the brush." …Mama, mama, mama. No matter what I tell her, she would continue. Sometimes, I am tempted to put a plug in my ears! LOL
I had been looking online at bob strollers and I was thinking that the "baby" episode of Dindin is already a long way away. She is halfway to her third birthday already that whenever I would look at her baby pictures, my eyes would well with tears.
My baby is like a little lady already.