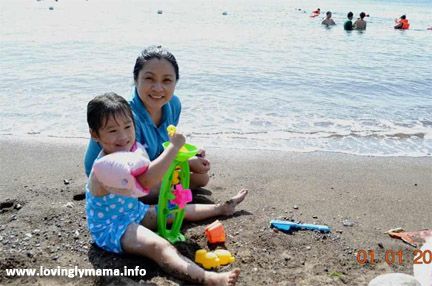 I had been complaining that we never had a beach vacation for 2012. Sure we travelled, but none of our destinations included a visit to the beach.
And then finally, on the first day of 2013, we hit the beach. It was too bad though that it was a short one because we had to travel all the way back to Bacolod. But it was a lovely time and Dindin thoroughly enjoyed floating on the water and playing with sand. She didn't want to go yet and I didn't want to either. But it was that or nothing.
If given the chance, I would want to have a home by the beach so that we can enjoy the breeze, the sun, and the sea in the mornings and then in the afternoons. We would be beach bums, much like those owning Sunset Beach Real Estate. Ahhhh…it would really be nice.
Here in our province, the closest of the nicest beaches would be in Sipalay City, which is a little more than three hours away from Bacolod City and the rest of the family. But then, we would be near the beach… Ahhhh. That is something to consider if we want to relocate. LOL