September 2, 2012
Nido Fortified Drumbeater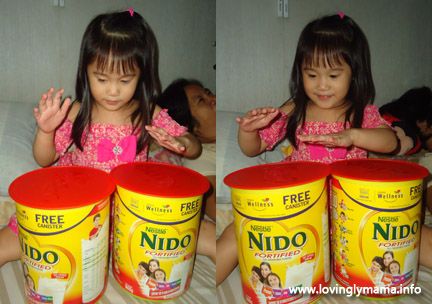 Yesterday, we were at the supermarket looking for another brand of milk for Dindin, as she had been taking hers for more than a year already. We thought it would nice to switch brands.
Then I got Nido Fortified. I have to admit that the main reason why I got them was because of the free plastic canister that came with the 900g pack. We bought two of the yellow canisters with the read cap (also available in blue).
I tasted Nido last night after I made a glass for Dindin and realized that it was not sweet. That's good because then she would not be hyper and her teeth will not be prone to tooth decay. Then she will just get all the protein and Calcium that she needs without much sugar.
And today, you know what Dindin used the canisters for? Bongo drums! She was able to watch some of the performances of the famous La Carlota drumbeaters on TV and she is applying their moves. Now below is the performance of the little dainty drumbeater wearing a pink Sabrina dress.