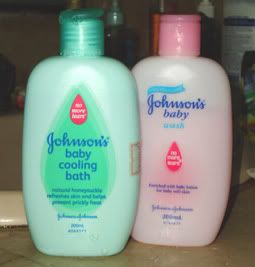 When I went to the grocery last month, I noticed that there are two new colors in the Johnson's baby wash shelf–green and pink. Honestly, I liked the colors and so I was encouraged to grab these two bottles.
The green one is Johnson's Baby Cooling Bath. It has natural honeysuckle that is supposed to refresh the baby's skin and prevent prickly heat. It smells so fresh that Dindin likes it. For a time, it was all she wanted to use, especially for her nighttime bath. It reminds me of the Elizabeth Arden Green Tea Scent Spray–so fresh and natural.
The pink one is a moisturizing Johnson's Baby Wash that is enriched with the Johnson's baby lotion that we have always loved. And because of that, your baby will really smell like the light classic baby lotion scent that we always loved. Of course, it makes baby's skin supple.
I use both variants, along with the top to toe and the milk bath interchangeably. I would like to buy the blue and violent variants because it has already become a bath time game for us. 😀
Related story: For a Baby Who Never Thinks It's Bedtime