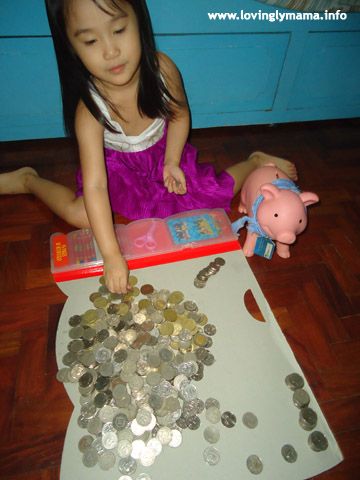 In my past article, Teaching Kids About the Uses and Purposes of Money, I talked about teaching Dindin the value and also the uses of money because I think it is very important.
And on with the training. Last time, we opened up her piggy bank because it was already full. This is probably the sixth coin bank that we opened where Dindin helped me count the coins. This is the same piggy bank that was given to some bloggers last time. Check the story: Keeping Coins in a Real Piggy Bank. Needless to say, Dindin loves this coin bank that she calls "Piglet."
Aside from just putting money in the coin bank, I let her help me count the coins. While it is extra effort for me, it's okay because at least she learns. Then afterwards, we would pack the coins and have them exchanged for paper bills from the store. Dindin is involved in each aspect.
Then it is finally time for us to bring the money to the bank. Dindin is now aware of terms like "deposit" and "invest". She sits at the New Accounts counter and pretends that she is signing off papers. She is like a "pro" already. Look at the photo below. I think it will come a time when she just sits at home like a boss and checks on her investment. LOL
I am teaching her these things so that she will not think that money is only for buying things–like she saves up in order to buy something. I think that this exposure is really helping her. You see, Dindin's inclination is more on the performing and visual arts but I don't want her to be just artsy-fartsy without a solid grip of reality or finances. I wouldn't want to see her broke. Hence, the early training. She can indulge in the arts but she has to find a way to finance it.
You may also be interested to read my other story about Dindin starting her own business. This was her very first venture. Dindin Starts Her Own Business
Hmmm…maybe next time, I will teach her about how to check background checks here online or at the banks. hehe