Lovingly Mama Blog – What am I blogging for?
Right now, I am blogging happily as a Bacolod mommy blogger. I blog for loot bags and piggy banks and anything in between.
I am a work at home mom (WAHM) who takes care of one daughter who is now three years old.
Professional Writer
In the past, I used to write for national magazines as a freelance contributing writer. I would also do events management, layout, come up with creative concepts and the like for local companies. I would do all sorts of odd jobs after I left the corporate world about 10 years ago–which includes blogging.
Blogging for Profession
Blogging has been one of my sources of income for the last three years already. The income as a freelance writer and blogger has not been regular or sizable, but for me, every penny counts. And my earnings have also improved as I continued to develop my blogs and write content that is relevant to my readers.
But it had not always been like this. If I remember right, I started blogging eight years ago using the Blogger platform. It was just a blog about my rants and raves. Then I shifted to WordPress where I just wrote about my devotions.
It was not until three years ago when I met my friend, Ruby of Pinay Mommy Online, who bought me a domain and hosted it for free. That was my first domain blog, Posh Post. She taught me how to get started and eventually, I learned to tinker with my blogs. I am still not very good about the back-end part but at least I get to put up blogs that look like these.
As Bacolod Mommy Blogger
Then I gave birth to Dindin. I used to blog about her and motherhood in my marriage blog that was hosted by Blogger. But Ruby encouraged me to buy a domain for it, hence the blog, Lovingly Mama.
I may be considered a professional blogger in the sense that I already get paid for what I do. That's what my brother said. If you do something and you get paid, that is already a profession. Though I still have a long way to go in the financial and influence side of blogging (not that I really intend to be influential), but I am happy to be earning from it.
No, I am not one of those who earn hundreds of thousands just by blogging. But I am already happy to be able to supplement our family income from my online pursuits. I also feel a bit more accomplished now that my Adsense earning is picking up and I have already been paid twice.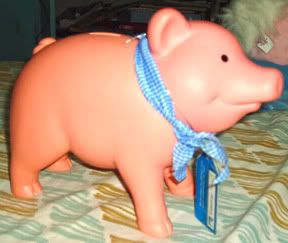 I would be happy to blog about companies who would give me loot bags. I just hope that they notice this blog. And piggy banks, too, like in my article on Insular Life (Preparing the Future Education of Our Children) that rewarded me a cute little piggy bank (literally!).
The Loot Bags
And no, I don't get loot bags often. Actually, the piggy bank was the first one I got. I live in the province and PR companies in Manila do not often reach out to a mommy blogger like me in Bacolod. But that is fine. And I still would be happy to blog about a loot bag.
I am not ashamed to say that I would blog about loot bags and piggy banks. As long as I have a steady stream of income from my blogging endeavors and I am not selling my body or my soul to do it, then I am a happy and content momma. 😀
If you ask me why most of my articles have grammatical and syntax errors when I am supposed to be a professional writer, well, I hate to say this but I don't usually edit what I have written. You see, I am quite OC about my writing and if I start to edit it, I would not be able to post it because I will just keep on editing it. hahaha
So bear with me. As long as you get my drift, that is fine with me. 😀