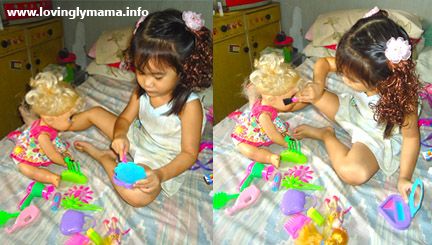 Like most little girls, Dindin likes the concept of makeup. But she does not really get my makeup and use it (though she would sometimes ask me to dust her with powder when she sees me using it). Instead, she likes to apply make up on others, like her dolls and the images of Barbie and Tinkerbell on her posters.
So one time, I bought her some plastic makeup. No, these are not real makeup for kids. These are just plastic items that are shaped like cosmetics. She was very happy. So in the photo above, she is putting on makeup on her Baby Alive doll, Cassie.
Here is how she does it.
How to apply makeup on your doll
1. She would take out her cosmetics from her makeup kit.
2. Place all the items around you.
3. Position your doll in front of you.
4. Find a comfortable position.
5. Apply makeup.
Sometimes, she would pretend that she is applying makeup on me. Her hands are very gentle. I think this is a good way to exercise her creativity and her imagination.
If my daughter is going to be my in-house stylist, then I would not have to wonder about what is workers compensation. LOL Every service would be free of charge!