October 3, 2011
How Sons and Daughters Should Become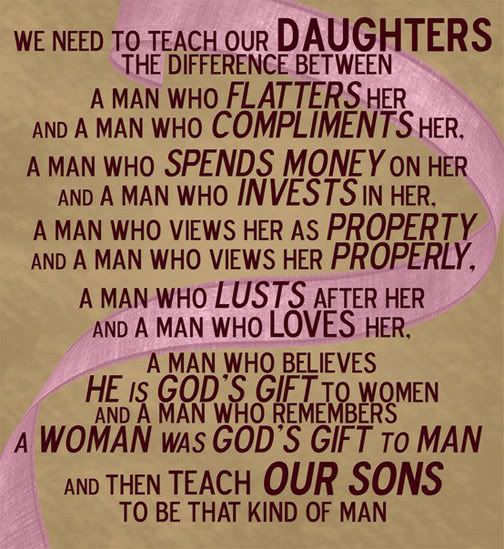 My husband shared this poster on his wall and took the liberty of copying it. It is just so true and I am inspired so I am sharing it with you. I took the liberty of typing the words below so that you can easily copy it and share.
We need to teach our daughters the difference between

A man who FLATTERS her
and a man who COMPLIMENTS her

A man who SPENDS MONEY on her
and a man who INVESTS in her.

A man who views her as PROPERTY
and a man who views her PROPERLY.

A amn who LUSTS after her
and a man who LOVES her.

A man who believes HE is GOD'S GIFT to women
and a man who remembers a WOMAN was GOD'S GIFT to MAN.

and then teach OUR SONS to be that kind of man.