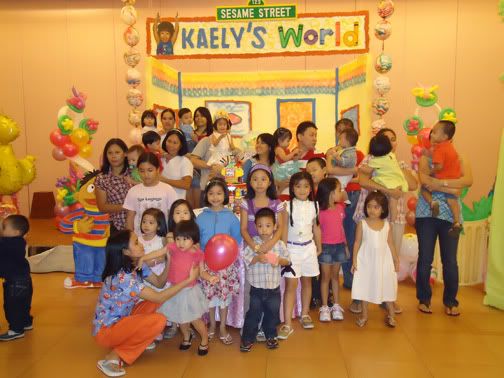 Last Saturday, we attended Kaely's 2nd birthday party. The theme was Elmo. Oh my, that was already an outing on its own!
You see, Kaely's mom Sansan, like children's parties and she really enjoys organizing such for Kaely. Since Kaely likes Elmo, Sansan did not spare any detail. The stage was entitled Kaely's World and had all the Sesame Street characters all around. There was also a big Elmo toy on the centerpiece.
There was a giant Elmo Cake below. It was really beautiful with all the Sesame Street characters made of gum paste and used as cupcake toppers. In the photo above, all the kids gathered around the cake so that Kaely can blow her candles while everyone sang the Happy Birthday song.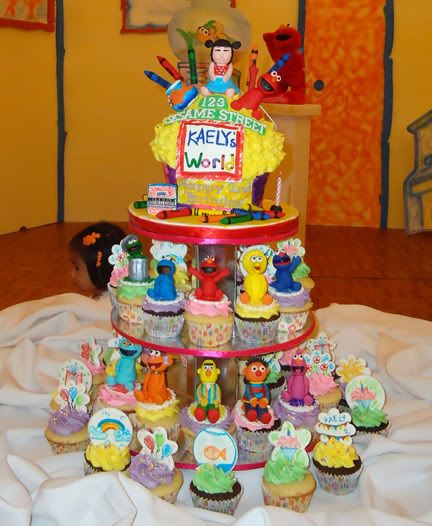 There were games and of course, Elmo-inspired prizes. Dindin and I joined in the games and now my arms are sore from carrying her all around. hahaha But Dindin had so much fun that all the tiredness was worth it. And she won lots of prizes, too.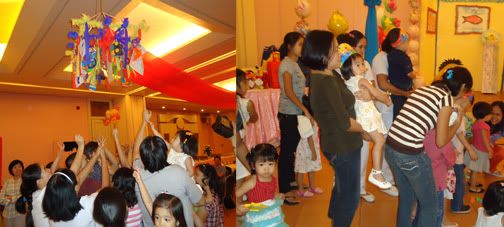 Sansan also rented a Bounce Bounce–this nice inflatable bounce that had a slide and Dindin enjoyed it for many minutes. I had to lift her up and let her slide down. Or she would go inside and just jump and jump. While Dindin jumped, giggled, ran around, and played, Mama followed her all around that I also got hyper and was not able to sleep early that night. LOL All for the love of your child, right? hihi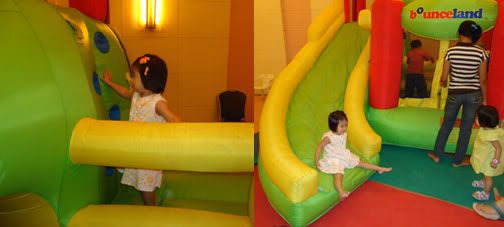 And the final surprise was the Elmo character appearance. Sansan made an Elmo costume and the children loved him. Especially Dindin. I had a hard time distracting her because she just wants to be with Elmo. And many of the pictures of the people taken with Elmo, Dindin was there! She was like a groupie. hahaha

Oh what fun we had in the party! And afterwards, too, because she had a lot of goodies! Thanks Waiman and Sansan for inviting us!