EXTENDED UNTIL MIDNIGHT: JULY 10, 2011. HOPE YOU CAN JOIN!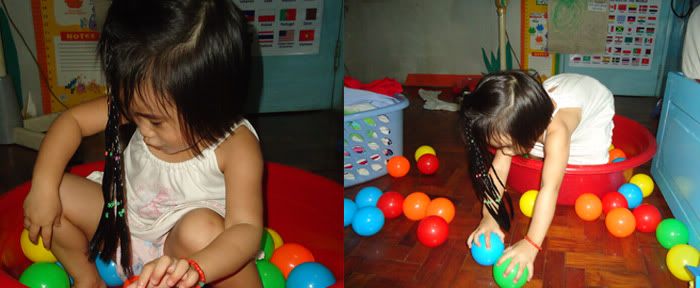 Dindin has two sets of these really colorful balls. I personally like playing with them. However, it can be tiring picking them all up by the end of the day. And sometimes, we just step on them. It has been sometime that I taken these out for Dindin to play. But since this was recently returned to us by a friend who borrowed them for her daughter's birthday, I let Dindin play with them. And of course, she enjoyed them. And at least now, I can already tell her to pick them up and pack them away. Good girl. haha
I did not know how many balls I have until the friend who borrowed it from me counted it for me. So with two sets of balls, we have a total of ____ balls.
Now, you will have to fill in the blank. Yep, this is another contest. All you have to do is guess the total number of balls that Dindin has. The one who makes a correct guess will win $5. There can be multiple winners.
But of course, I am not a sadist so of course, I will give you a clue. The number is between 70 to 110. So here is what you should do. If you have an existing blog post, just mention something in the end like, "Lovingly Mama is letting me guess how many colored balls does Dindin have? And my guess is ____." Then link up the keyword, Lovingly Mama to http://www.lovinglymama.info. Very simple, eh? Write it in your own words, okay? haha
You can enter as many blogs as you want with different answers as long as you follow instructions. Then post the link to your entry on this post. Simple, right? Contest runs from today until June 30, 2011.