July 3, 2011
Gifts from Family and Friends with Vicarious Experiences
Dindin has liked many different characters ever since we exposed her to kiddie videos. And thanks to friends and family members, she has amassed different items that are inspired by her favorite characters.
After Baby Signing Time, Dindin got hooked with Wonder Pets and then Ni Hao Kai Lan. By now, I already know the songs and the speaking lines by heart because she watches them repeatedly everyday. Of course there are limits, but just the repetitions make them easily memorized. Thanks to my brother Iman who had a stint in the US last year, he bought two sets of toys for Dindin. That is why she now has a set of Ni Hao Kai Lan and friends plushies pictured below. Meet the gang, from top, left to right: Rintoo the Tiger, Toley the Koala, Lulu the pink Hippopotamus, Kai Lan, and Hoho the Monkey. In this show, Dindin learned some of her Mandarin words.
Because of this, Tita Daphne also gave Dindin a Ni Hao Kai Lan Princess of Friends book and 4R photo album. It now contains photos of Dindin and Gianna together.
Another set that my brother bought are the Wonder Pets. As you may notice these are both Nickelodeon shows. Meet Lenny (guinea pig), Tuck (turtle), and Ming Ming (duck), too.

Dindin also likes Leapfrog. Thankfully, my brother also sponsored her Leapfrog Scribble and Write toy that teaches kids to write. It is sooo expensive at Toys R Us but is half the price in the US.
The Dindin started liking Elmo. We have several Elmo videos and she likes singing them. I already have an Elmo pillow that was given to me during my bridal shower (would you believe that? I wonder if my aunts thought that Elmo was kinky? hmmm…) And then Dindin was given an Elmo backpack by our Ninong Wee Kiat and Ninang Shirley. But more recently, Tita Jenny gave Dindin a small Elmo plush that came with clip like that of a key chain. Dindin was soooo happy!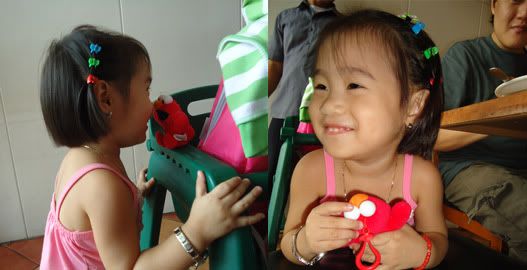 And then of course, who could forget Tinkerbell because even Mama got hooked and kept on posting about our favorite fairy on Facebook! Soon, Tita Toni got hooked too and began researching stuff about Tink. She even gave Dindin half a dozen cupcakes with Tink toppers from Flibby's! Papa, Mama and Dindin all enjoyed eating the sweet treats!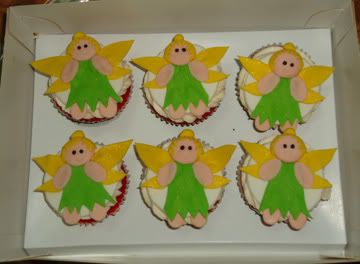 Tita Daphne also shared in Dindin's interest. She first gave a pink Tinkerbell backpack to Dindin.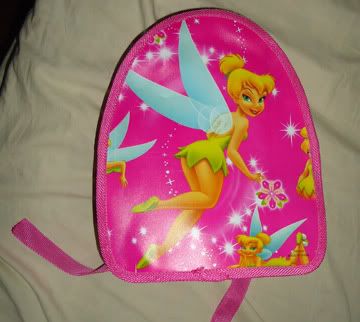 Eventually, when she ordered stuff for her daughter Gianna's Strawberry Shortcake birthday, she also got this set of Tinkerbell party place mats and coasters.

Tita Gemma also got wind of Dindin's interest in Tinkerbell and she bought two sets of greeting cards that she thought we could cut out and use as wall decor. But they are too cute to cut! We will find some use for it, perhaps as invitations later on. hihihi

Her 2-chim Maricar also sent these two sets of Tinkerbell clothes from China. They are still a bit big so I am reserving them. I think Dindin will be able to wear them in another two months. 😀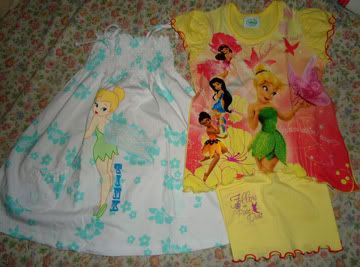 When Dindin was still very young, her Tita Gervie gave her a purple Elmo jacket. That was long before Dindin knew who Elmo was. But we still have it and I think it will still fit her till next year.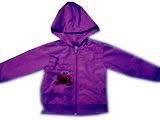 Of course, there are so many people who keep blessing Dindin but these are the ones that are related to her latest interests. So to everyone who have had vicarious experiences with Dindin's interests and who shared in the joy by blessing her with these stuff, THANK YOU VERY MUCH!!!! More to come? LOL