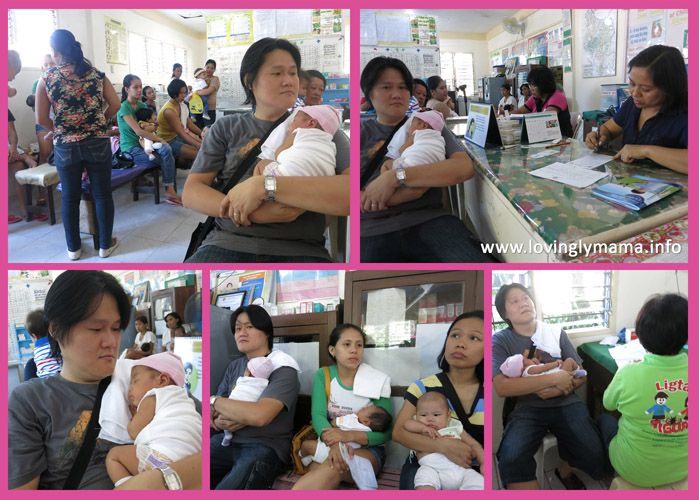 My eldest daughter Dindin had her vaccines from her pediatrician. I would have wanted to take her to the health center but my father-in-law mentioned before to give the slots to the underprivileged if we can afford it anyway. Although the shots were expensive, we were still fine because Dindin was our only child. And it was convenient going to the doctor.
But now that Siobe is here, we are also trying to tighten belt strings here and there. And in the light of the pork barrel scam here in the Philippines, I am thinking, gee, if officials can do this to us, I might as well avail of the free services provided by the government to its constituents, right? And I could use the extra money, too.
So yesterday morning, my husband went to the Barangay Villamonte Health Center in order to get listed for the day's batch of immunization. He left the house around 6am while I prepared the two kids, as Dindin had to go to school. He came back around 6:45am and told me that Siobe was first in queue. We left the house a quarter before 8am, took Dindin to school, and drove to the health center.
Many people already lined up when we got there. But when we told them that we were number 1, the lady who handled the registration prioritized us. It took awhile to complete our registration because we were still interviewed to complete the records, as it was Siobe's first time. She was very accommodating. Then Shane was weighed, measured, and we were made to sit down in queue to wait for our turn. By 8:10am, they already started the vaccination procedure and in 10 minutes, we were already out of there. Whew! That was fast and easy.
Honestly, I had my reservations of going there. I have never done this before and it is like going into uncharted territory. But I wanted to try it, after all, I know that millions of Filipinos do avail of this service by the government health center. It is an experience that I could write about.
And I am happy that we did. It was a pleasant experience and we saved money. What else can we ask for?
Shane was given her first dose of PentaHib and OPV. Her next dose will be by the end of the month.